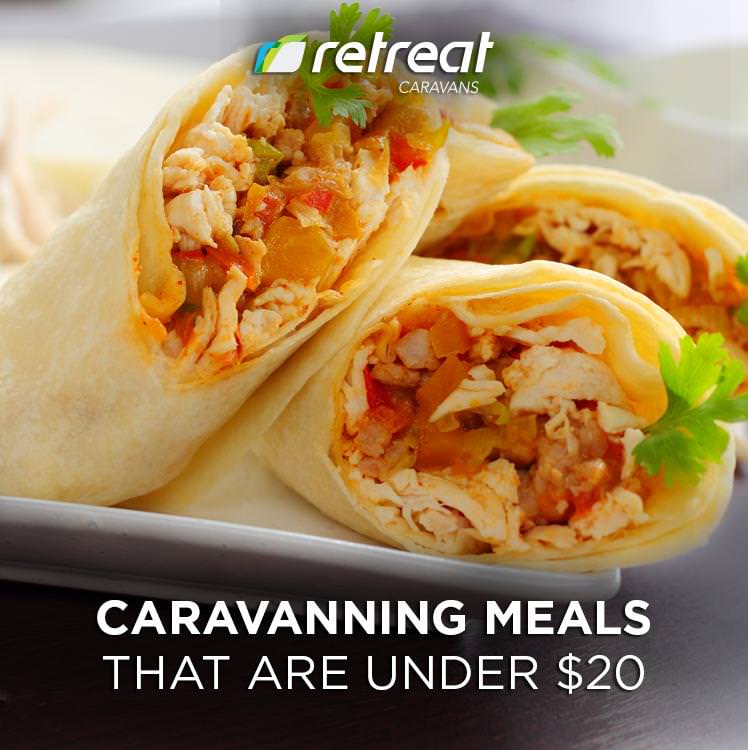 Want to treat your family to a delicacy without the need to empty your wallet?
We have compiled recipes that are fit for a family of four, for just $20 or less! With less than 30 minutes preparation time, these cost-efficient meals add more miles with your luxury caravans to your itinerary and bring families closer too.
When you're focused on saving money, adding the leftover flavours from your pantry is one way to go. This prevents wastage as well as adds a fresh taste every time. Moreover, $20 might seem paltry when you're eating out, but when you're cooking on your own, we can show you $20 is more than enough!
1. Chicken Cheese Pasta
What you need:
Pasta or Spaghetti- 3 Ounces
Chicken- 2 Ounces
Choice of Florets- 1 Cup Broccoli or Cauliflower
Water- 6 Cups
Salt- To Taste
Pasta Sauce- 12 Ounces
Cheese – Quarter Cup
Vessels- Pot, Strainer and Bowl
How to Cook:
Pour six cups of water into the saucepan.
Boil it.
Add Spaghetti or your preferred pasta.
Shred the chicken into bite-sized pieces and put into the mixture. .
Add your choice of florets.
Cook for 5 minutes.
Drain it using a strainer.
Liquify your pasta paste.
Toss in the cooked spaghetti and chicken into the sauce.
Stir gently and add salt and flavours.
Add shredded cheese and serve.
Cooking time: 15 Minutes
Total Cost: $7- $10
2. Colourful Veggie and Avocado Salad

What you need:
One cup Lentils
One cup diced carrot
Two Australian Avocados
Three to four pieces of shallot
One sliced onion
One cup sliced cucumber
Half cup tomatoes
2 Tablespoons of mixed herbs
Quarter cup of cheese
Salt and Pepper- To Taste
Dressing of Choice- As needed
Bowl and Spoon
How to Cook:
Wash the lentils and soak until soft.
Add the vegetables and avocados.
Garnish with herbs, salt and pepper.
Add the dressing and refrigerate until cold.
Cooking time: 15 Minutes
Total Cost: $15
3. Sausage Casserole
What you need:
Eight to 10 sausages

Two

medium sized

potato dices

One long carrot
One quarter cup of rice
One cup of sliced onion
One cup of cheese
Two cups of water
420 g of tomato puree
Salt to taste
One spoon of oil
Mix of herbs- As needed
Utensils- Oven and Casserole
How to Cook:
Preheat your Oven to 1800
Line your casserole with potato slices after brushing with oil.
Layer with diced carrots.
Line with onion slices above, after separating the layers of the onion.
Add rice.
Deck with sausages.
Pour water and tomato puree.
Cover and bake for 90 minutes.
Open the casserole and cook again for 20 minutes.
Add cheese and serve hot.
Cooking Time: 90 minutes
Total Cost: $9- $12
4. Mushroom in Lentils Soup
What you need:
500g of mushrooms
Half cup of l

entils

Five to six cloves crushed garlic and ginger
Salt and pepper to taste
One sliced o

nion

5 cups vegetable stock
One quarter cup of all purpose flour
Fresh herbs such as mint, thyme, rosemary and so on
Three spoons of oil
One quarter cup of cream
Utensils- Saucepan and Blender
How to Cook:
Soak the lentils for 4-5 hours prior to cooking.
Brush a saucepan with oil.
Over medium heat, sauté the mushrooms for 5-6 minutes and remove from heat.
Spray more oil in the pan and cook your ginger garlic paste with herbs for 3 minutes.
Add the flour and coat the pan by stirring.
Then put in the mushrooms, lentils and stock.
Simmer the mixture above for 15 to 30 minutes.
Using a blender stick, stir the soup well by adding the cream.
Serve hot with toast.
Cooking Time: 30 minutes
Total Cost: $17
5. Caesar Salad Wrap
What you need:
Four strips of ham
Two Cups ground chicken
One quarter cup of mayonnaise
One clove of garlic
Half teaspoon of mustard
30g parmesan cheese
One Lettuce
Four pieces of feta wrap
Five spoons of oil
Salt and pepper- As needed
Utensils- Skillet, bowl and spoons
How to Cook:
Fry the bacon in a skillet for 4 minutes then remove from heat.
Cook the ground beef until soft.
Mix the herbs, flavours, vegetables and sauces in a bowl.
Mix well.
Roll the salad in the feta wraps.
Serve cold with a hot dip.
Cooking Time: 5 Minutes
Total Cost: $18
6. Thai Rice and Fish Bowl
What you need:
One and a half cups of rice
500g of fish fillet
1 clove garlic
200m ml coconut milk
One cup of mushroom
One spoon of fish sauce
One onion finely chopped
Salt and pepper- to taste

Four

spoons of o

il

Half cup diced carrot
One spoon b

rown sugar

Four green onions
One cup of water
One spoon of curry paste
Four spoons of lime juice
Herbs and leaves- As needed
Vessels – Skillet, Spoons and Bowl
How to Cook:
Heat a skillet and add oil.
Sauté mushrooms in the skillet for 5 minutes then remove from heat.
Cook the onion until golden brown. Add the carrots and the herbs.
Pour the curry paste and cook for 1 minute.
Add the coconut milk, then cook for 6 minutes.
Simmer with fish fillet and mushrooms for 8 minutes.
Add lime juice, sugar and fish sauce to the above then cook for 3 more minutes.
Garnish with leaves and chilli on steamed rice.
Cooking Time: 30 minutes
Total Cost: $18 -$20
7. Economy Burger
What you need:
One diced onion
Half cup yoghurt
One teaspoon mustard powder
One spoon of butter
Two spoons of soy sauce
Two pounds of pre-cooked ground beef
Two spoons of garlic ginger paste
Salt and Pepper- To taste
Herbs- as needed
Toppings- Parsley, horseradish, Cilantro, Cucumber
Four slices of cheese
Utensils- Skillet, Masher and Grill
How to Cook:
Melt butter in your skillet.
Cook onions with ginger garlic paste for 7 minutes, then remove to a bowl.
Add mustard powder, herbs, sauces and yoghurt to the bowl.
Then put in the herbs and stir well until smooth.
Add the beef and mash it evenly.
Refrigerate for one to two hours.
Ready your grill and make 4-6 patties.
Cook for 5-6 minutes on each side and serve with chopped toppings in between bread.
Cooking Time: 15 minutes
Total Price: $20
8. Tuna Sandwich
What you need:
Sandwich Bread
500g of tuna fillet
Mayonnaise
Salt and Pepper
Lime Juice
Mustard
Mustard sauce
Sauce of choice
Toppings- cilantro, onion, tomato, cucumber
Vessels- Pan, plates and spoons
How to Cook:
Make a paste out of tuna and cook it on low heat.
Remove the paste, Then, make another paste using one one teaspoon of mayonnaise, salt, mustard, and lime juice.
Refrigerate overnight.
Spread mustard sauce on your sandwich and fill it with tuna and toppings.
Serve cold!
Cooking Time: 30 minutes
Total Price: $15- $17
Conclusion
From fresh to fast cooking, there are innovative ways to save on your food allowance, needing just $20. Doing so would prolong your caravanning holiday.
With fresh food and groceries, cooking a savoury meal is easy as well as a great fun activity for families. If your park permits, make a campfire outside your van when trying the above!
RELATED
10 Caravan Friendly Breakfasts to Try
How to Build a Perfect Campfire for Outdoor Cooking