One thing I love about caravanning and camping is that you get to return to basics in nearly every aspect. From lighting a campfire to the environment at camp, you experience what it was like in the Stone Age.
But even more interesting is how people prefer to eat healthy during these periods. Always better than your erstwhile staple of coffee and baked meat (and back).
Even though it can often be challenging to access ingredients for a healthy caravan breakfast meal, you still have plenty of choices. Breakfast, because it is hands down the most important meal of the day.
Besides giving you energy, it also keeps your weight in check. You'll have the needed sugar to kick start your day and enough energy to finish the tasks for the day.
Caravan Friendly Breakfasts to Try
Here are ten must-try caravan friendly breakfast food.
Scrambled Egg Burrito
Burrito, the rolled tortilla with a filling of shredded or ground beef or beans, makes for a perfect breakfast when you mix scrambled eggs into the filling.
Scramble a few eggs and wrap them in a soft tortilla. Consider throwing in some chopped tomatoes, shredded ham, avocado, spinach and mushroom to get that gourmet feel.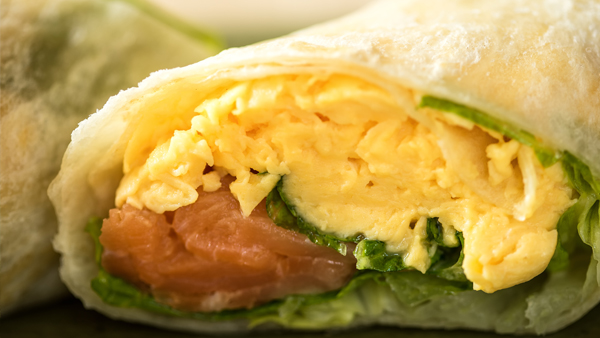 Studies show that having eggs for breakfast increases your chances of having a healthy weight in the long run. Plus, eggs supply your body with all the essential amino acids. And when taken whole, eggs are a complete source of protein one of the most complete you can ever get.
Taking eggs in the morning helps you feel full for most of the rest of the day. Tortillas on the other hand are one of the best source of carbohydrates. With the carbohydrates and protein, you'll have enough sugar in your blood that would give you energy for all the camp activities throughout the day.
Cheesy Scrambled Egg Croissants
These breakfast bread rolls with creamy eggs are camp-friendly.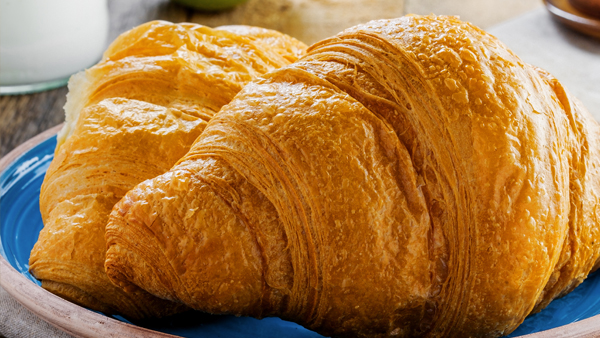 Here's how to make these: whisk a mix of eggs, milk, cheddar and some seasoning in a bowl. Pour it into a saucepan and heat gently, continuously stirring until the mixture is softly scrambled. Split your croissants open and put the scrambled eggs inside. Enjoy.
Chocolate & Almond Croissants
Before leaving home, slice each croissant lengthwise so that it would open like books, spread the lower half of each croissant with marzipan, and then add 1 tea spoonful of almonds and chocolate each.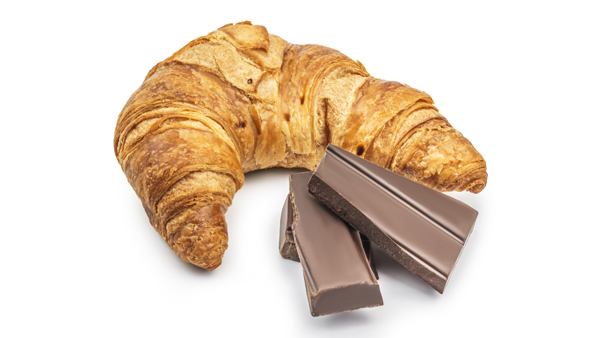 Close it up and put it on a baking sheet. Sprinkle the remaining almonds and chocolate on top and bake until the chocolate has molten. Serve while warm.
Corn Fritters
Another energy packed recipe for a typical caravanner. In a bowl, sift some corn flour, salt, baking powder and pepper to taste; then add beaten eggs and stir to mix. Stir sweet corn gently while heating some oil in a frying pan.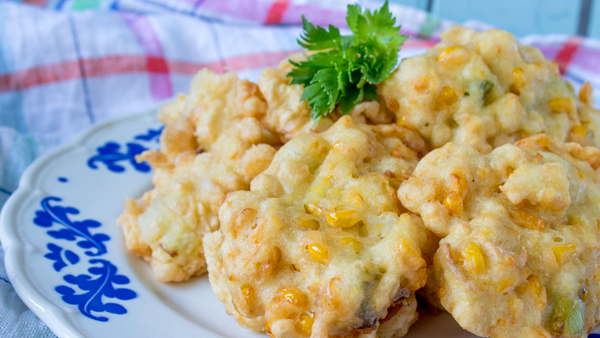 Drop spoonfuls of the fritter mixture into the frying pan and cook it until golden. Turn it and cook the remaining side until it has the same colour. then drain on an absorbent paper. Serve warm.
Crushed Olive Oil Potatoes
A bowl of crushed olive oil potatoes can be a great way to start your caravanning day. Simply cook the potatoes in hot boiling water for around 15 minutes to become tender.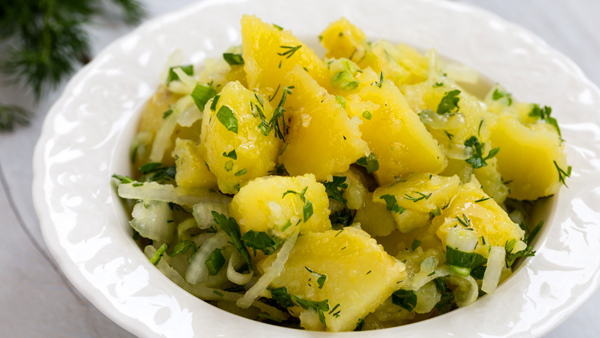 Drain excess water and smash the potatoes lightly with a fork. Mix in some pepper and salt and a little splash of olive oil to dampen. Enjoy.
Dressed-up Yogurt
A mix of fruit, nut and jam in a bowl of yogurt makes a powerful breakfast.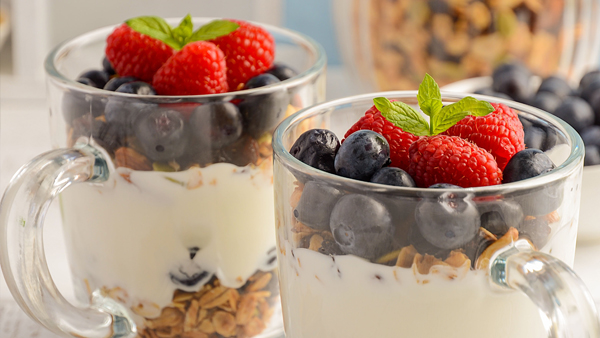 Just add a teaspoon of raspberry jam or honey – whichever you preference – and roughly chopped toasted almonds in a bowl of yogurt and mix. Then grab a spoon. You're good to go.
Kicked-up Quesadilla
You can have this ready in less than 5 minutes. Sprinkle a uniform layer of cheese over a tortilla.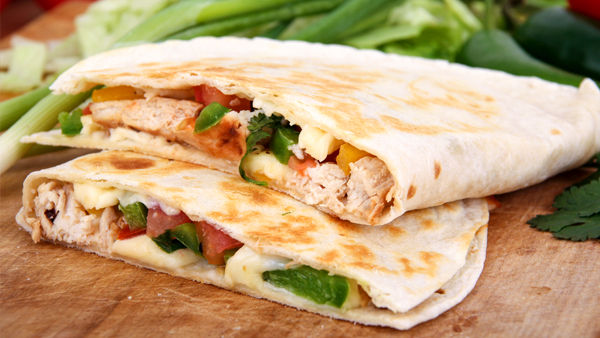 Then some slices of apple, and another tortilla to top it all off. Pop it in a microwave for about 30 seconds to melt the cheese. Cut into pieces and serve warm.
Greek Omelet in a Pita
For a good mix of carbs, protein and vitamins, the Greek omelet served with vegetables is a must-have. In a small bowl, crack the eggs and whisk with some pepper and a pinch of salt.
To a small non-stick skillet, add some oil and sauté chopped onions until translucent, then add bell peppers and cook for about 2 to 3 minutes. Add in the eggs from the bowl and quickly stir the ingredients together. Let them cook completely for around 5 minutes.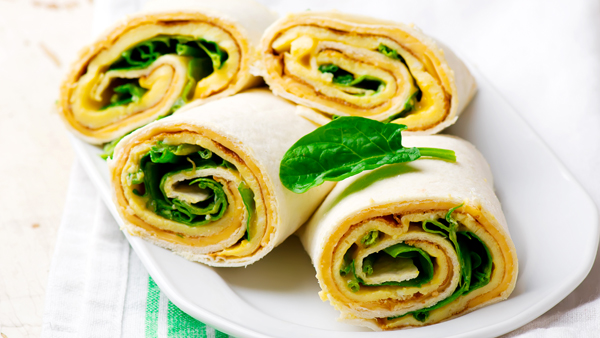 Done, top it with feta cheese. Spread some hummus on either half of the pita and fill with the eggs. Enjoy.
Quiche Muffins
Here's a protein-packed breakfast that you can bake real quick. Here's how.
Preheat your oven to 425 degrees Fahrenheit. Use a cooking spray on a muffin tin. With medium heat, cook some bacon for 5 minutes in a heavy skillet. Add chopped onions and cook till the onions become translucent.
Put one spoon of the cooked onion mixture into each muffin tin. Whisk eggs, cream, cheese, milk, salt,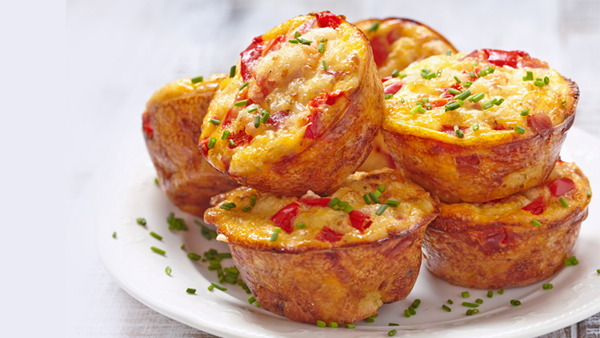 and pepper together and pour them over the onion mixture. Then bake till the tops are golden with custard set in the center. Slightly cool and remove from the pan. Serve warm and enjoy.
Granola
This should be included in your diet.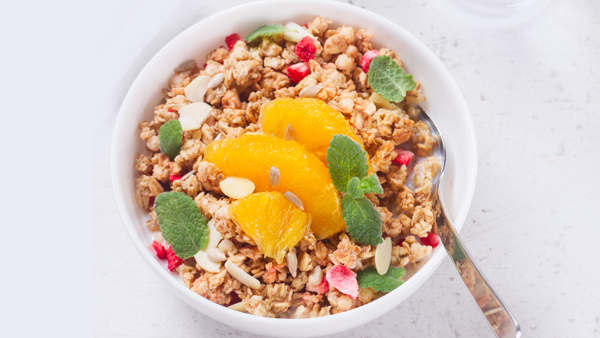 Simply add a splash of milk and honey to some prepped granola and serve before you leave home.
Got another idea we left out? We'll be glad to include it in our list.