Camping is a great family activity. It's a great way to bond with your kids, teach them to be independent, to care for nature, and to put down their gadgets and have some fun.
Camping is also a great way to create memories with your kids, something that they will remember forever. However, the thing with kids is, they get bored easily.
A few moments of inactivity can lead to boredom, tantrums, and even fights. You need to make sure you have a good plan to distract and keep your kids busy while camping.
Make sure you go on your trip well prepared and equipped with everything that you need to keep them busy and have fun.
The key is to keep them happy, not just busy. Integrate some learning activities while still having fun. A camping trip is supposed to be enjoyable for all parties, so keep that in mind when planning your itinerary.
So taking all of the above on board, here are some activities and things you can do with your kids while camping in the great outdoors:
Go On Nature Walks And Identify Plants and Animals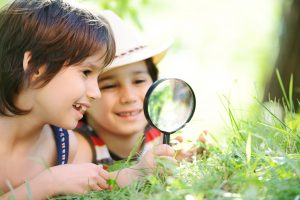 Make your nature walks fun and exciting by letting your kids bring a pen and notepad or a camera so they can list down the plants and animals they can identify.
They can also take photos of the plants and animals they see so they can identify them later when you get back to camp. This is a great way for the kids to learn, appreciate nature, explore, and have fun at the same time.
Let Them Do Chores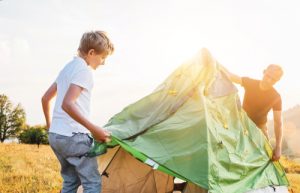 Let them help do some camp chores so they feel important and useful. Doing chores while camping can be fun and will keep them from getting bored. Some things you can let them do are:
Set up the tents. If they don't know how, it is time to teach them.

Prepare and cook meals and snacks.

Look for firewood for the campfire.

Let them help make the fire with strict supervision.

Keep the camp clean by picking up rubbish and leftovers.

Wash clothes and dishes.
Go Fishing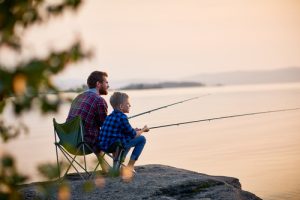 Start by making improvised fishing rods and looking for bait. Learning to fish is a great bonding experience for kids and parents.
It is a great way to make memories, too. Imagine letting them catch dinner and maybe help cook it, too!
Play Games
Playing games is a great way to keep kids occupied. Bring board games or have a treasure hunt. Make a game of camping chores, like who can gather the most firewood, or who can cook the best meal.
Be as creative as possible when coming up with games that will keep them laughing and having the best of fun.
Sing Campfire Songs
Teach them campfire songs and let them come up with songs of their own. Bring a guitar or tambourine or any other musical instrument.
Learning music while enjoying nature is a great memory your kids will cherish.
Make Campfire Fun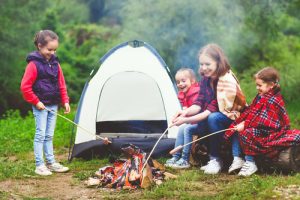 Tell stories or read books, sing songs, play guessing games, play charades – there are so many things you can do while you are gathered around the campfire.
Keep the night filled with fun activities for a truly memorable and enjoyable experience.
Watch The Stars
Enjoy the night skies, look for constellations, or try to look for a falling star. The night is beautiful and the stars are even brighter when there are no city lights nearby.
Research about visible heavenly bodies during the dates you are going camping. List them down and let the kids identify and look for them in the sky.
Go Swimming, Canoeing, or Kayaking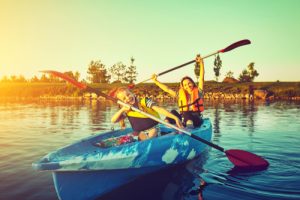 Go camping where there is a lake or river nearby. If your kids don't know how to swim yet, this could be the perfect time to teach them.
Let them explore and learn new watersports like canoeing and kayaking. The more you let them explore, the more their love for nature will grow.
Of course, please make sure you bring all the necessary flotation devices, life jackets, etc.
Have Fun With An Inflatable Wading Pool
This is perfect if you have an RV or a caravan. Fill it with water and let the kids splash around and just enjoy the day.
Throw in some water balloons so they can enjoy a water balloon fight. Make sure there is plenty of cover overhead to protect them from the sun.
Final Thoughts
There are so many caravan parks and camping sites in Victoria and a large majority of them are kid-friendly, and even pet-friendly.
This should allow you to bond with your family and create unforgettable memories with your kids.
Now that travel restrictions in Victoria are slowly being lifted, it is the perfect time to take the whole family on a scenic trip away from the city so you can enjoy and explore nature.
The best way to enjoy a camping trip with your family is with your very own caravan. For the best caravans in Australia, then you can't go past Retreat Caravans.
Please check out our range of caravans below, all carefully designed with you in mind: