Eating on the road or while camping does not need to be bland and boring. With some simple recipes, native ingredients and a bit of creative flair, these 5 easy bush tucker recipes will make your camping experience a memorable one.
These five easy bush tucker recipes require minimal ingredients which means you can easily fit the ingredients in your caravan fridge or freezer.
1. Warrigal Green Frittata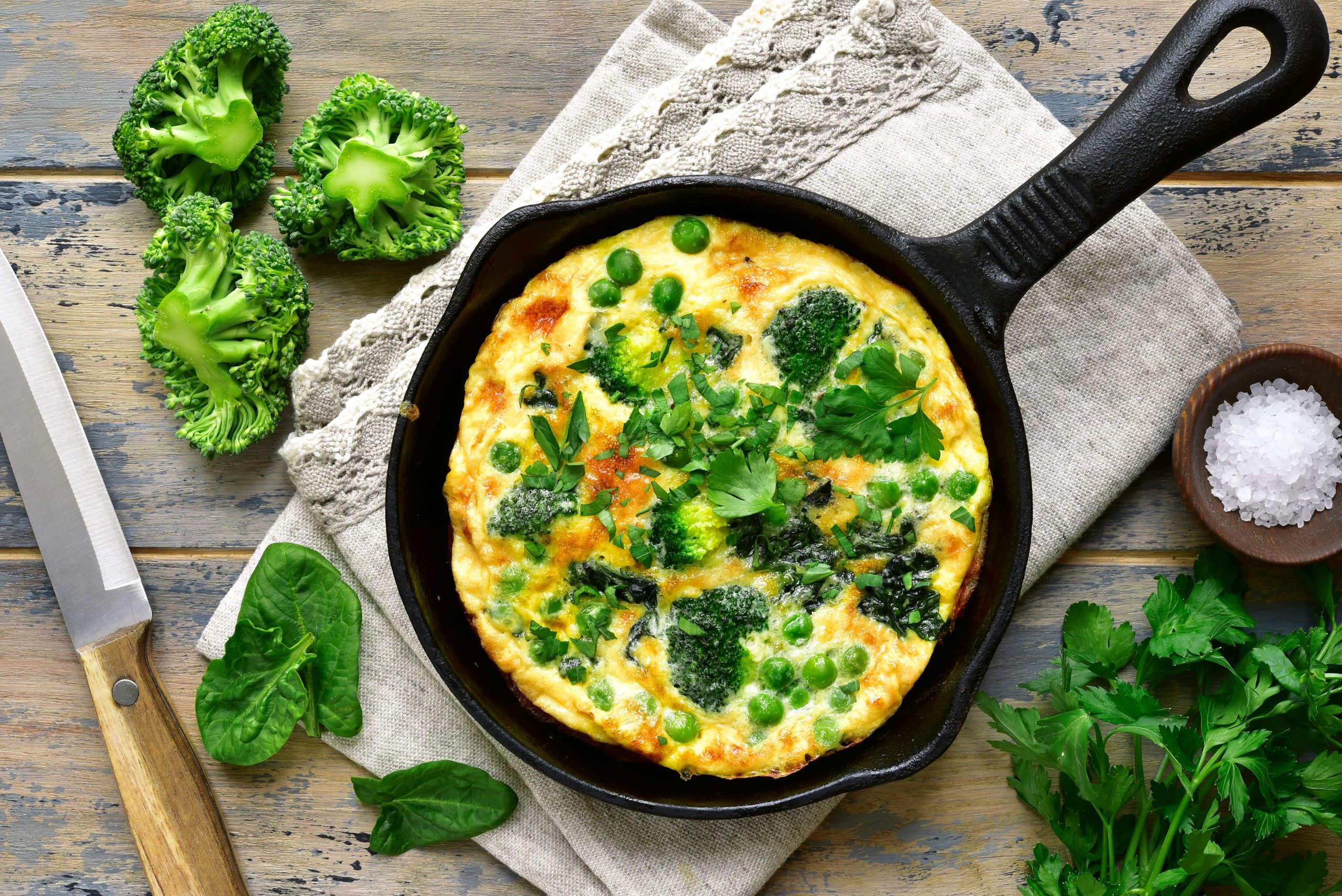 Warrigal greens are a native type of spinach that is delicious and easy to forage in coastal areas, estuaries, and in sandy areas of beaches where sand meets the soil. Here is an easy and quick 10-minute recipe that is a sure hit!
Ingredients:
8 eggs
½ cup milk
½ cup green onions (sliced)
1 cup warrigal greens (blanched and roughly chopped)
200 g feta cheese (chopped)
Salt and pepper for seasoning
Oil to grease the pan
Step 1: Blanch the warrigal greens for a few minutes.
Step 2: Preheat the cast iron pan on the fire or grill.
Step 3: Whisk the eggs and milk together.
Step 4: Add in the onions, feta, and warrigal greens.
Step 5: Put two to three tablespoons of oil into the cast iron pan. Brush the oil up the sides as well.
Step 6: Pour in the egg mixture into the pan and cook on medium heat until the bottom starts setting. You can cover the top until it cooks all the way through.
2. Lemon Myrtle Roasted Macadamias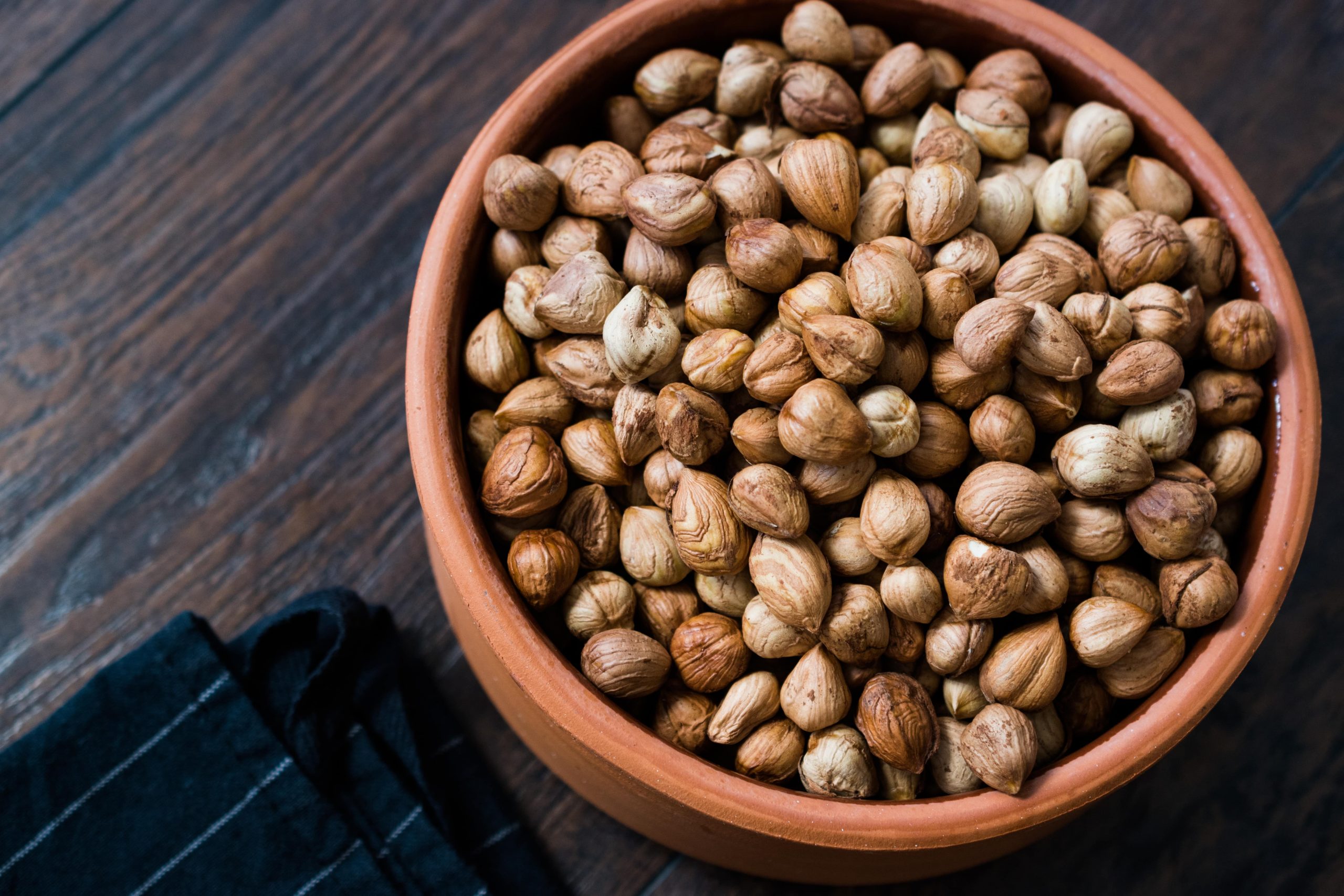 Lemon myrtle is a native bush with a strong lemony scent and flavour. Lemon myrtle contains beneficial vitamins and minerals like Vitamins A and E, and magnesium. It is the perfect flavour for the buttery macadamias. Nibble on this healthy goodness while watching the stars or hiking on the trails. Enjoy this 10-minute recipe!
Ingredients:
1 cup raw macadamias
3 tsp dried lemon myrtle
2 tsp lemon juice
1 tsp olive oil or coconut oil
Zest of 1 lemon
A pinch of cayenne pepper or ground chilli
Salt to taste
Step 1: on medium heat, roast the macadamia nuts for a good five minutes. Stir constantly to avoid burning.
Step 2: using low heat, pour the olive oil or coconut oil into the pan along with the lemon myrtle, lemon juice, lemon zest, cayenne pepper or ground chilli and a pinch of salt.
Step 3: Stir in the pot for about five minutes on low heat until golden brown.
Step 4: Remove from heat, let cool and serve.
3. Spiced Kangaroo Steak With BBQ Chips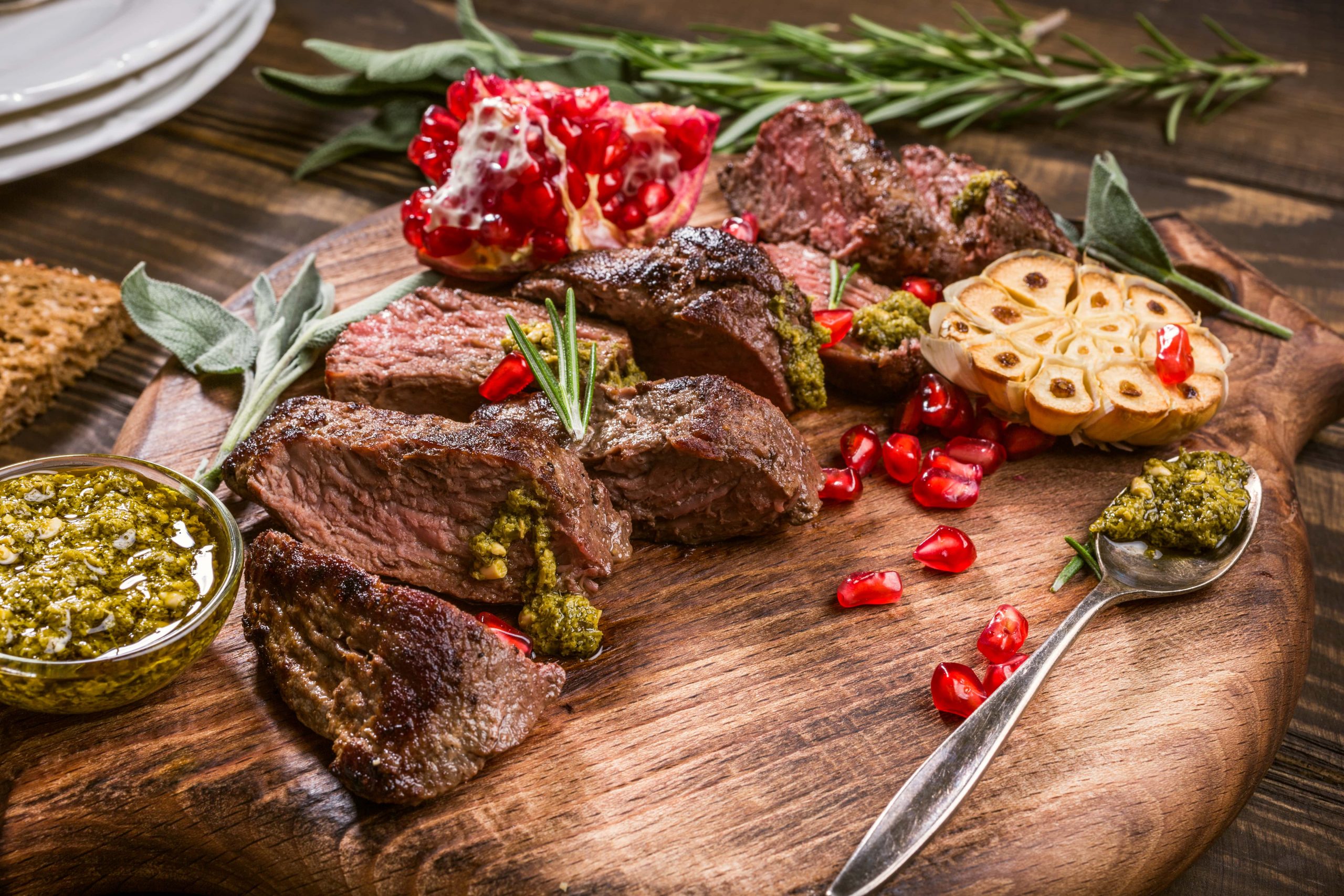 What better way to cook a bush tucker recipe than with kangaroo meat! This recipe takes only 20 minutes to cook using other Australian native ingredients. Enjoy the best camping meal you will ever have!
Ingredients:
4 kangaroo steaks
Olive oil spray
4 large potatoes (sliced 5mm thick)
Salt and pepper
BBQ Spice Mix: ● 1 tbsp ground bush tomato ● 2 ground pepper berries ● 1 tsp ground mountain pepper leaf ● 1 tsp ground coriander ● 1 tsp sea salt ● ½ tsp ground cumin ● ½ tsp ground wattleseed ● ¼ tsp ground lemon myrtle ● ¼ tsp smoked paprika Mexican Style Corn ● 2 corn on the cobb, halved ● 1 tbsp olive oil ● 1 tbsp aioli ● 2 tbsp finely grated parmesan ● 1 lime, quartered
Step 1: Use medium to high heat for your grill or cast iron pan
Step 2: Combine the spice mix thoroughly.
Step 3: Spray the kangaroo steaks with olive oil and rub with the spice mix. Cover with plastic wrap and let marinate for at least 30 minutes.
Step 4: Boil the corn in a saucepan for about five minutes and then drain. Spray with olive oil and place on the grill or cast iron pan. Turn every two to three minutes until the corn is charred. Remove from the grill and brush with aioli, and then sprinkle with parmesan and squeeze with lime.
Step 5: Spray the potato slices with olive oil and season with salt and pepper. Place on a preheated pan. Turn every two to three minutes until golden brown.
Step 6: Place the kangaroo steaks on the barbie or cast iron pan. Cook for four to five minutes on each side for medium-rare, adjust depending on the thickness. Serve.
4. Bush Donuts With Wattle Sugar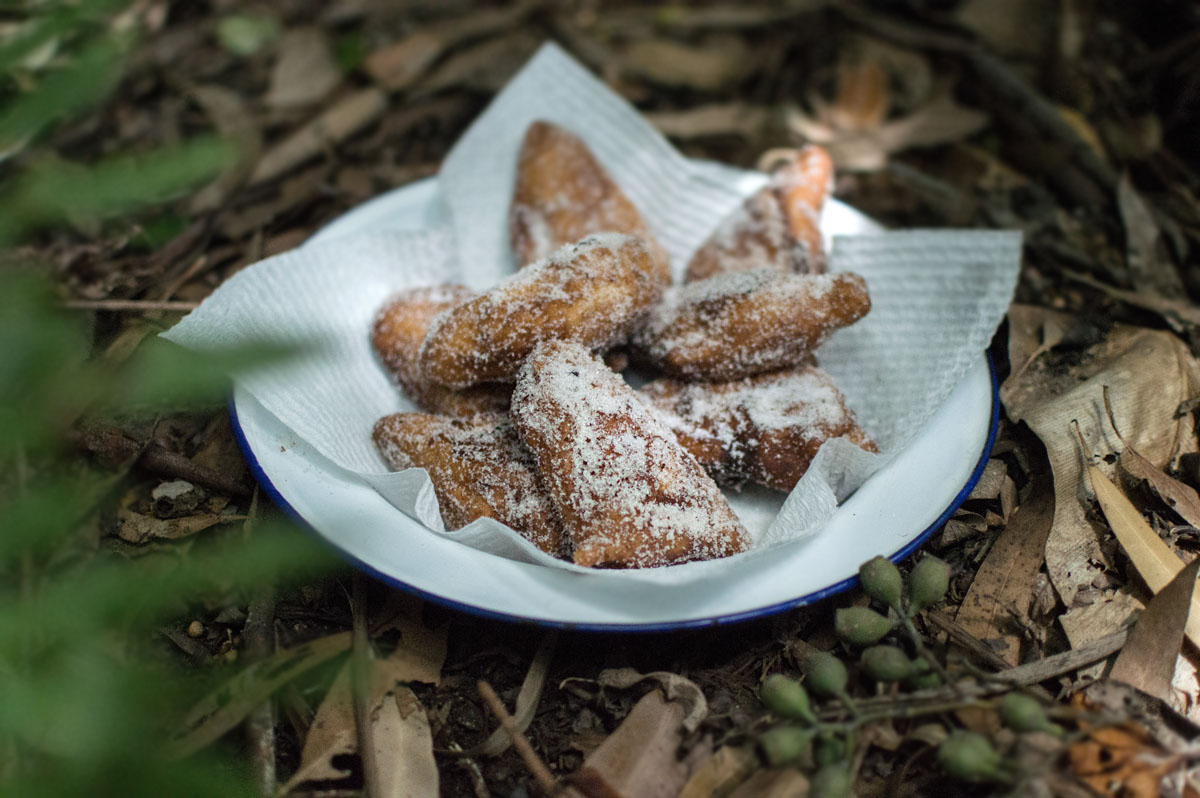 Source: heneedsfood.com
This is a classic camping dessert made popular by scouts when they are out in the wilderness. Quick and easy to make, and deliciously good too!
Ingredients:
1 egg
¾ cup milk
1 cup self-rising flour
1 loaf thickly sliced bread (crusts removed)
1 tsp vanilla extract
¼ cup caster sugar
Raspberry jam
Canola oil for frying
Wattleseed-sugar mixture: ● ⅓ cup caster sugar ● 1 tsp toasted wattleseeds
Step 1: Mix the egg, flour, milk, and ¼ cup caster sugar in a bowl. Whisk and mix well. Set aside.
Step 2: Mix the toasted wattleseeds and ⅓ cup of sugar. Set aside.
Step 3: Cut the slices of bread in half diagonally. Put a decent amount of jam in the centre of the bread. Fold over and press down the edges.
Step 4: Heat the oil in a large pan over low to medium heat. The oil should be at least about 3 cm deep.
Step 5: Dip the jam-filled bread into the egg batter. Slow fry in the oil until golden brown on each side.
Step 6: Drain well. While the donuts are hot, toss them in the wattleseed-sugar mixture and serve immediately.
5. Billy Can Beer And Bacon Damper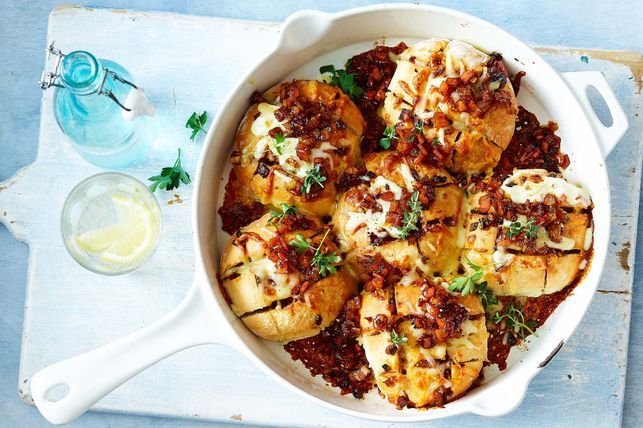 Source: taste.com.au
This is a fun and easy twist to an Aussie favourite. When camping, beer is everything!
Ingredients:
2 middle bacon rashers
2 tsp olive oil
1 small red onion
A pinch or two of ground chilli
450g self-rising flour
2 tsp chopped fresh rosemary
1 tsp toasted wattleseeds
1 tsp ground dried lemon myrtle
Sea salt for seasoning
280ml room temperature beer
Step 1: Grease and line the base of a 1.5L billy can with baking paper. Set aside.
Step 2: In a preheated pan, cook the onion using 1 tbsp olive oil over medium-low heat. Stir for several minutes or until soft. Stir in the bacon and cook for about 5 minutes or until golden brown. Stir in the ground chilli for two minutes or until lightly caramelised. Season with salt. Transfer to a bowl and let cool for ten minutes.
Step 3: Combine flour, rosemary, wattleseeds, lemon myrtle, and salt in a large bowl. Make a well in the centre. Add beer and remaining olive oil. Stir to form a soft sticky dough.
Step 4: Knead for five minutes or until soft and elastic. Roll out the dough into a 20x35cm rectangle. Spread with the onion mixture. Roll up lengthwise. Shape into a coil and place into the billy can. Let rest for 30 minutes.
Step 5: Preheat enclosed BBQ on low heat. Place the billy can from the heat and cook with the hood down for 40 minutes or until golden brown. The dough should sound hollow when tapped. Remove from heat and let cool for five minutes. Remove from the billy can and serve warm.
So there we have it, 5 delicious bush tucker recipes for you to experiment with on your next camping adventure and have some fun while you're at it.
If you are looking for the best caravans in Australia for your next big adventure, you can't go past Retreat Caravans. Please check out our full range of caravans below, all carefully designed with you in mind: