We all love retreats and caravanning holidays. The escape from the daily life gives us the chance to see nature in a new perspective and we can bask in the wild while checking out sights we may never see again.
However, not all thrill seekers have the capacity to buy the most expensive caravans. If you are one of these thrill seekers who don't like to break the bank when buying a new caravan, you would likely be pleased to know that Retreat Caravans is offering you the 2017 Whitsunday!
Whitsunday isn't like most caravans – it's not very expensive, yet still has the luxurious design that Retreat is known for. Some of its key features are:
Reversing camera;
150W solar panel;
Air conditioner;
2×95 lts water tanks;
3kg washing machine, and
120 amp AGM battery
Piano hinge doors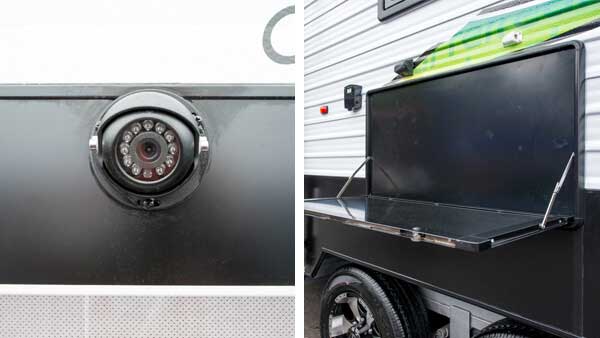 These are some of the features found on both the interior and exterior of Whitsunday:
Interior elements
The interior features of the Whitsunday aren't much different from those of other Retreat Caravans models. There is the laminate splash-back to protect the interiors when you're cooking.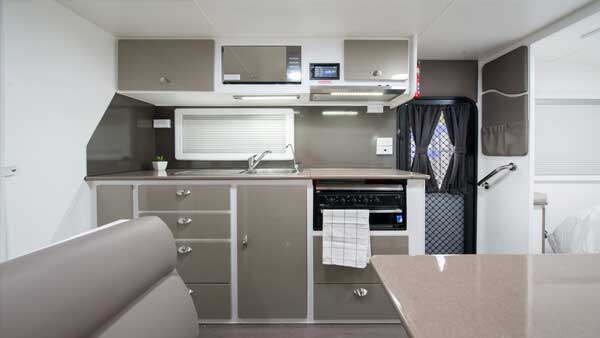 What's good is that this also makes the interiors easy to clean and stain resistant.
Moreover, the acrylic doors have curtains. The piano hinge doors will surely are catch your eye.
You will also have a mini grill which you can take outside for barbecue parties. And no more cold meals with your microwave in tow. There are also two towel rails, a fiber-glassed bathroom, and rolled post form bench-tops.
The caravan also has an air conditioner that's easy to operate. An inner-spring mattress is also available as well as quilt, cover, and pillows. These make you feel as if you're just at home.
Exterior elements
On the exterior you'll notice the modern design of the caravan. Solid and beautiful, they look good and can withstand weather elements of whichever climate you're travelling to.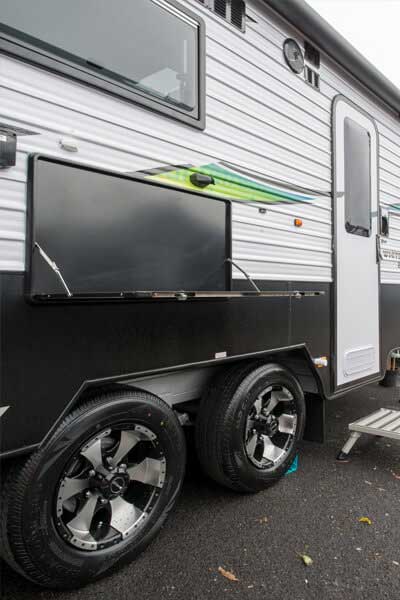 The white stucco aluminum cladding which is clearly visible from outside is something that works wonders for the caravan. Claddings protect the caravan from weather elements. And aluminum is good because it is resistant to corrosion and abrasion. Moreover, it's lightweight and durable.
The windows of the Whitsunday are double-glazed to keep cold air out. The rounded entry door is easy to operate. And there is an outside table which you can use for reading or even eating.
Electrical and electronic components
Again, there isn't much difference here compared to other Retreat models.
The Whitsunday has an external TV with a 12 volt plug and a 25 amp battery charger. There is even a 12volt circuit breaker to protect your devices. A 120 amp battery and 120 watt solar panel are the main sources of power.
If you're tired of watching TV, there is a built-in DVD player with an LCD monitor where you can watch movies and play music. Plug in the two outside speakers and two roof speakers to amplify the sound.
Plumbing elements
Aside from the two large water tanks already mentioned, the Whitsunday has a hot water system and a water filter.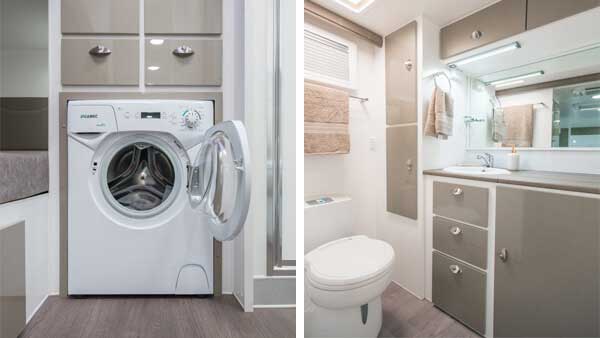 There is also a top load 3kg washing machine waiting on standby and a ceramic cassette toilet available.
Summary
Considering these features, the Whitsunday gives you the best value for money — with amenities you can find in other caravans at a significantly lower price tag.