Camping requires a multitude of things but most important of all should include a world-class caravan. Without the appropriate transportation, it can be difficult to enjoy the experience and make the most of it.
Retreat Caravans provides a wonderful collection of camping caravans for a comprehensive off-road experience. With years of expertise and a passion for camping, this is the ultimate solution for camping enthusiasts.
Here's what to look for with off-road caravans.
Sturdiness
The first thing a person should be looking for when it comes to an off-road caravan is the general sturdiness of its build quality. It should be made of high-quality materials such as 6" A-frame chassis, black checker plate fronts, modern double glazed windows, and more.
This sturdiness can make all the difference when it comes to difficult terrain. Being able to rely on your vehicle and not having to worry about the caravan is of utmost importance. This allows you to relax and make the most of your trip.
Luxurious Interiors
The interior is one of the most important requirements in a modern camping caravan. Not only does it have to look the part, it also has to be comfortable and practical. If the interior doesn't meet this criteria, this will negatively impact your camping experience. This is why taking a look at the interior features is a big part of the process.
Key interior features include:
* AC
* Rolled Laminated Doors
* Perspex Splashback
* Fully Fibreglassed Shower
* WIFI
The best options are going to bring all of these features into the mix as soon as one starts looking. This is why Retreat Caravans is one of the most respected names in the industry with all their vans being equipped with quality interiors.
Easy To Drive
Imagine sitting behind the wheel and not feeling confident in how it will steer!
This is one of the biggest and most underrated worries a person can have as soon as they settle into a new caravan. One of the primary advantages of choosing a stable off-road vehicle is the general comfort of driving one across various terrain. Camping is not always going to be simple and that includes the terrain one is driving on. To make this as straightforward as possible, a good off-road caravan needs to be able to steer easily on all surfaces.
Ideal Design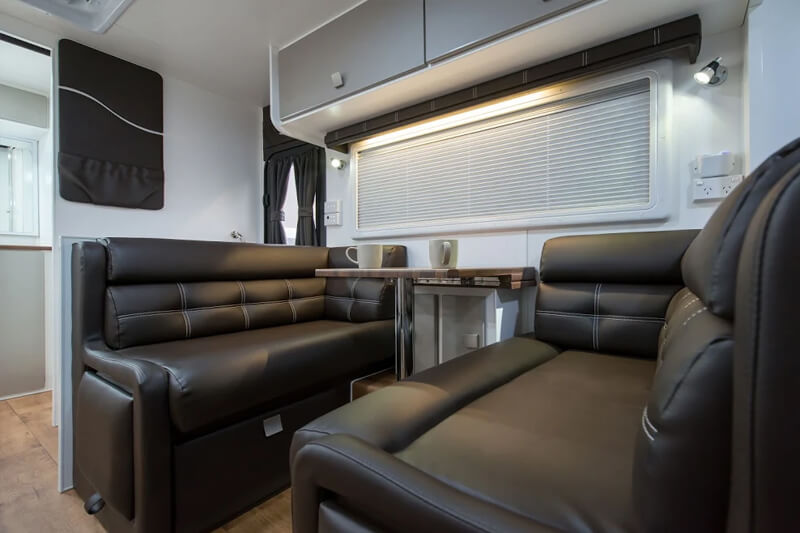 The design has to be safe when it comes to managing a camping trip and being able to get more out of it.
This includes how it is set up inside and where each person will sit as they are enjoying the features of the caravan. The beauty of a quality caravan is in its design. This includes where the sitting space is and where everything is situated from end to end.
Retreat Caravans takes time in understanding what clients are after and customises the solution as much as possible. Having an ideal design is half the battle when it comes to a quality caravan in the modern age.
Comfort
Towing your caravan across the countryside is going to be a time consuming process. This is why it is important to provide a comfortable ride from point A to point B without creating new issues. With a robust suspension system, the ride quality goes up and that is a must for any modern camping solution. If the wrong caravan is brought into the mix, the ride quality decreases which can have a negative impact on the enjoyment of your trip.
A world-class caravan will ensure you travel in comfort so that you not only arrive at your destination, but relaxed and ready to enjoy your camping adventure.
Tech-Friendly
Whether it's the reverse camera or WIFI connection, Retreat Caravans provide a wonderful set of tech features in its fleet of vehicles. Each one is equipped to handle the vigorous tech-based requirements a person demands as they go on a trip out to the countryside. Being able to rely on an off-road caravan for these needs is a must and is one of the appealing plus points of choosing from the best.
Affordability
Affordability is going to be a major expectation when it comes to purchasing one of the leading options on the market. When it comes to camping caravans, these are among the most affordable on the market and will just about fit into anyone's budget.
Instead of spending a lot of money on transportation without getting anything back, why not invest in the best? The quality is going to stand out as soon as one sits inside and takes a look at all of the beautiful features. It is a bonanza of quality that is second to none.
To rent one of these world-class camping caravans, please speak to a representative at Retreat Caravans by calling (03) 9357 6493. The team will take its time to find the perfect fit based on your camping requirements.
More Articles:
Camping Caravan Sales – Are Off-Road Caravans Worth It?
Factors to Consider When Choosing the Best Off Road Caravans