Are you trying to find ways to spice up your isolation time? Do you and your family want to try something new together? Well, cooking is one of the best ways for you all to do so!
Just because you're in quarantine doesn't mean that you have to eat the same food every day. With this, here are three easy and fun recipes that you and your family can cook together!
1). Inside-Out Pancakes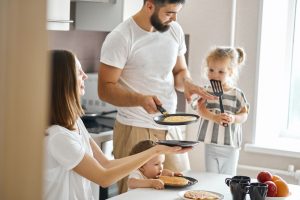 Pancakes are a classic breakfast staple. Not only are they extremely easy to make, but they can also be flavoured and accompanied with any kind of ingredient!
However, let's put a twist on these pancakes: instead of adding ingredients onto them, let's add ingredients inside of them! This is a really easy recipe you and your family can do and enjoy together.
Ingredients:
Procedure:
Step 1. For the filling mixture, combine the sugar, nuts, and cinnamon then set aside.
Step 2. Over medium heat, heat a nonstick skillet and then add 1 tablespoon of batter. Make sure to spread it evenly and thinly.
Step 3. Add 1 tablespoon of the filling mixture on top of the batter. Make sure the tablespoon portion is packed!
Step 4. Add 1 tablespoon of the batter on top to cover the filling mixture. Cook the pancake on both sides until they are ready, then you're finished! Make as many pancakes as you and your family want.
Remember: you're not limited to the filling mixture as your filling! You can use any fillings you want. You're only limited by your imagination!
2). Chicken Quesadillas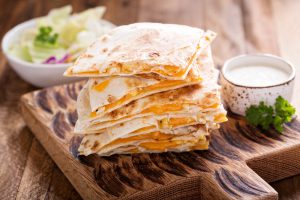 Quesadillas are another fun recipe that you and your family can make. It is a simple dish packed with a lot of flavour, so everyone will definitely have a good time both cooking and eating it!
Ingredients
8-10 10" flour tortillas

4 cups of shredded chicken
1 tablespoon of chipotle peppers in adobo sauce (this depends how hot you guys want your quesadillas to be!)
2 cups of sour cream (divided)
2 cups of shredded pepper jack cheese or mozzarella
Procedure
Step 1. Preheat oven to around 220°C.
Step 2. Add and stir the shredded chicken, 1 ½ cups of sour cream, chipotle pepper, shredded cheese, and salt into a large bowl.
Step 3. Line 2 baking sheets with parchment paper. Grease the paper with cooking spray or by brushing olive oil.
Step 4. Add about ½ cup filling on one side of a tortilla and then fold in half. Repeat the same process for the other tortillas.
Step 5. Place the quesadillas on the baking sheet and brush or spray with oil.
Step 6. Bake on the centre rack of the oven for 15 minutes until they are golden brown.
Step 7. Serve with the remaining sour cream and you're finished! You may also use other sauces such as guacamole, salsa, or pico de gallo.
3). Chicken Nuggets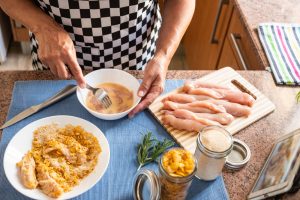 Chicken nuggets are another family classic. There are so many ways to make this —and, it's one of the best recipes to make together as a whole family! Here's an easy procedure for making these golden classics.
Ingredients
Vegetable oil

4 cups all-purpose flour
6 tablespoons garlic salt
3 tablespoons ground black pepper
4 eggs, beaten
8 skinless, boneless chicken breast halves cut into chunks or strips
Procedure
Step 1. Heat one of inch oil to 175°C in a large skillet or pan.
Step 2. Mix the flour, garlic salt, and pepper in one bowl then set aside.
Step 3. Individually dip the chicken pieces into the eggs and then coat them in the flour mixture. Set aside all chicken pieces on a plate.
Step 4. Cook the chicken in batches until they are golden brown, then you're finished! Easy, right? Serve with any sauce that you guys love!
Cooking definitely doesn't have to be boring! Having the whole family cook together makes your dishes a lot more creative and a lot more fun to eat. Feel free to add your own flair to any of these recipes!
The other good thing about these recipes is that they are also easy to cook on any camping or caravanning trips you take with the family. They are simple to prepare, fun to cook and taste delicious!