We are now into our fourth week of vigorously testing the Retreat electric caravan.
Our team is currently in Western Australia, just north of Kalgoorlie, in the Goldfields area.
We will settle here for a few days and try our hand at some prospecting.
Despite difficult weather conditions including overcast skies, low sunlight levels, and dipping temperatures, the van is still managing to produce power quite well.
The original plan was to test whether another van could be plugged into the Retreat van and draw power from the Retreat's ERV.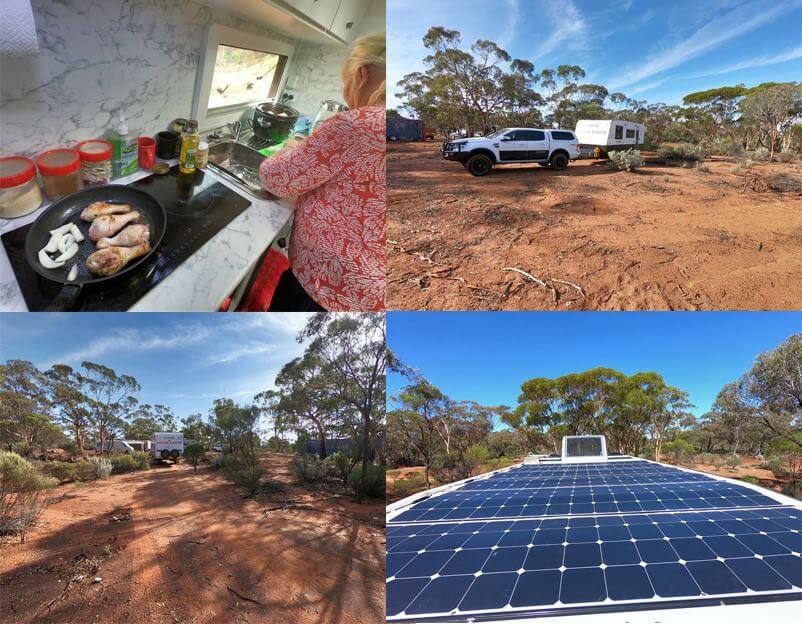 However, someone decided to ignore this plan and connected yet another van into the system, running three vans off the single power source!
This triple-van system ran for several days before the battery dropped into the red at 23% power.
At this point, the ERV was moved from its shady location under the trees out into the sun so we could take advantage of a brief sunny period.
This allowed the batteries to recharge. If weather conditions had been nicer to our crew, the third van could have run for several more days.
It was incredible that our testing crew was able to run that level of load testing at all, let alone having it work!
A majority of the cooking was done with the ERV powering the appliances.
Due to the cold, electric blankets were run off the battery power at night, as well as the air conditioning being used in two of the vans during the hottest parts of the day.
Andrew Huett of OzXcorp used the electric charging and discharging rate data to create a graph of the usage.

While he considers this graph to be a bit crude, it does a good job showing off the battery's state as power drains and recharges, as well as showing how power consumption changes depending on what appliances were being used at the time.
Watch this space to see more about the Retreat team's adventures in Western Australia.
Find out why you should go for our fully-electric Retreat caravan here.