Father's Day is coming around quickly. Have you thought of any good gift ideas for your dads, husbands, and granddads yet?
A watch, a tie, socks, a wallet? Forget about the stereotypical gifts. Why not make your gift something unique and memorable so you can make your dad feel extra special. Let's try and make this Father's Day the best one yet.
With the whole state of Victoria still under strict COVID-19 lockdown protocols, we all need to put in more effort and creativity when it comes to your Father's Day present this year. So with this in mind, we have come up with a list of fun and unique ways to spoil your dads while staying safe and COVID-free.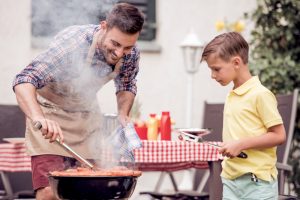 Backyard Barbie
You might not be able to take dad out to his favourite restaurant but that does not mean he can't enjoy a sumptuous meal together. Instead of dad toiling over the barbie, let him sit back and relax with a beer while you cook the barbie for him.
Make him feel extra special by setting up the barbie in the backyard, bringing out the table and chairs and enjoy a BBQ with the family. Make sure dad stays relaxed and feels spoiled while the family serves him lunch and makes a fuss over him.
Backyard Camping
Who says you can't camp out during lockdown? Pitch your tents and surprise dad with some backyard camping. Spruce up the tent so his bed is as comfortable as possible. Use a thick, comfortable mattress and fluffy pillows so he will have a good night's sleep.
Don't forget the other traditional components of camping – campfire cooking, campfire stories, and some good ol' camping songs and singalongs.
Help Organise The Garage
The garage, or man cave, is most likely your dad's favourite place. If you have noticed that he spends most of his free time tinkering around in the garage, then you are in luck!
Help dad to clean it up and organise it. By doing so, you will be able to provide more space for his stuff and more space for him to move around to tinker with his toys. Order more storage cabinets if you can. Believe us, this idea will not fail. Your dad will thank you for it!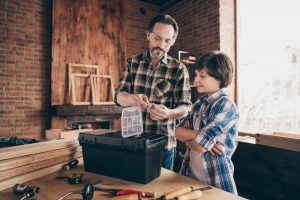 New Tools
As we just mentioned, dad's love tinkering around in their garage and we all know that dads love their tools. No matter how full their toolbox is, they can always use more tools.
Check out the tools in the garage and see if there are any that need to be replaced. Or better still, jump online and look for some toolboxes or a tool rack to help him organise his tools better. Your dad will love you forever for it!
A New BBQ
We mentioned earlier about cooking a BBQ for your dad. If your dad doesn't have a BBQ, then now is the time to invest in one! Maybe your dad has a dream barbie he has been keeping his eye on?
Do not forget to wrap it up nicely and do not set it up, let him do it. Part of the joy of getting a new BBQ is setting it up. Watch dad's face light up when he opens up this Father's Day present! While you're at it, prepare and marinate some meat ahead of time so dad can test out his new toy and serve Father's Day dinner.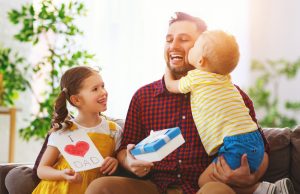 Write Dad A Letter
In this day and age of social media, you probably find yourself sending dad messages via Facebook messenger or text messages on a regular basis but when was the last time you really told him how much you love him and what he means to you?
Why not write him a nice one-page letter and let him know how much you appreciate what he has done for you over the last 12 months. Simple gestures like this can mean a lot and the best thing is that it costs nothing!
Final Thoughts
Aside from presents or activities, the key to an effective Father's Day gift is the delivery. Think of creative ways to package the present and a fun way to surprise him. The gift will be more appreciated if it is well thought of. Also, don't forget the Father's day must-haves:
Father's day cake
Father's day greeting card
And beer!
Dads are easy to please. Give him good food or a new toy and he'll be set. Make your present a little extra special by being creative. With our list above, your dad will have the best Father's Day for sure.