The Hamilton from Retreat Caravans is a luxury caravan built and equipped to make you feel comfortable. Like the manufacturers say, it's part of a rare group that delivers a "world-class, modern" adventure to "kings and queens of the road."
Some of Hamilton's key features include:
RV Wi-Fi

Reversing camera

FinScan RV power and monitoring system

Rolled laminated doors, and

Crimsafe entry door
And if these are not enough, you get to enjoy these features in the Hamilton caravan.
Exterior features
The Hamilton has very good ground clearance not to mention a well set up DEXTER M35 suspension and protected water tanks sitting high off the ground. The rig is packed and you'll need a strong tow vehicle with plenty of power to pull it.
One Retreater recently mentioned that he had an excellent experience with the Jeep Grand Cherokee as his tow vehicle. The Cherokee tows the 2.7 tons Hamilton through even the most rugged landscapes without a problem. Tear through the forests like you're on a highway.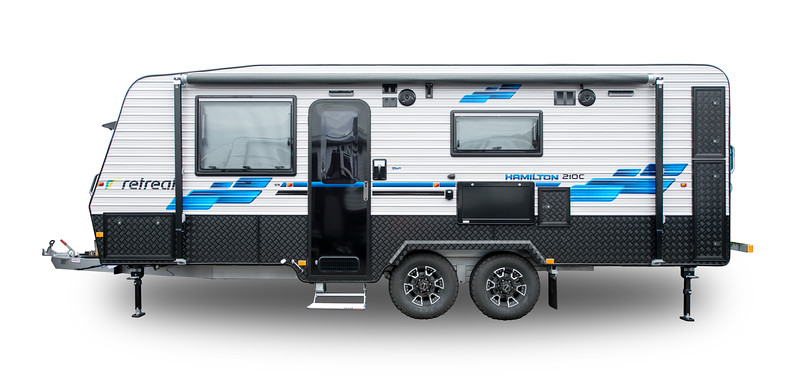 Still on external features, the Hamilton has a steel towel rail.
It also comes with a high-end table and TV entertainment hatch. Not all caravans have a TV hatch. This means you'd need to find a place for your TV before you can catch up with news or watch your favorite programs. With Hamilton, you won't need to figure out a proper spot for the TV.
The Hamilton also has European-style double glazed windows, outside shower, reverse lights, and black matte front alu panels.
Interior features
Just like the outside, there is a lot to love about Hamilton's inside. First, unlike most other caravans, there is a special door curtain so you don't have to worry about bringing one from home.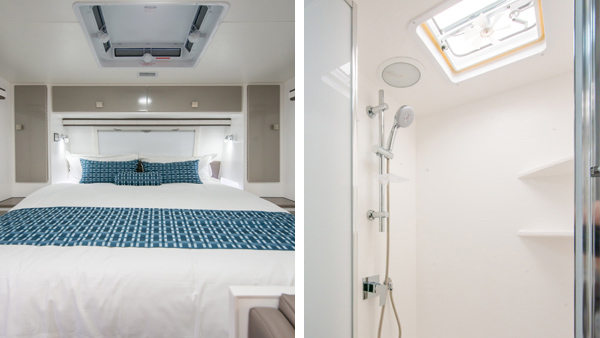 Then, there are built in foot rests, rolled laminated doors to protect you from the cold, extension runners, drawers, a pillow top mattress, two towel rails, upholstered magazine holders, upholstered seat bases, an air conditioner, an oven, a 23ltr microwave, and a shower room made entirely of fibreglass.
It's worth noting that all the cupboard doors have piano hinges. Also, the van boasts a total load capacity of 765kg. Hence, you can bring along a lot of stuff.
Electricals
The Hamilton has the FinScan RV power and monitoring system which powers the caravan. There is also a battery charger should your mobile phone or laptop's battery gets drained.


There is also a Sirocco fan, a 120 amp AGM battery, and a 150W solar panel. With regards to lighting, the entire caravan is well lit with bright lights nearly everywhere.
There are lights on the step wall, tail lights, LED strip lights under the kitchen/lounge pelmet, and 3 annex lights.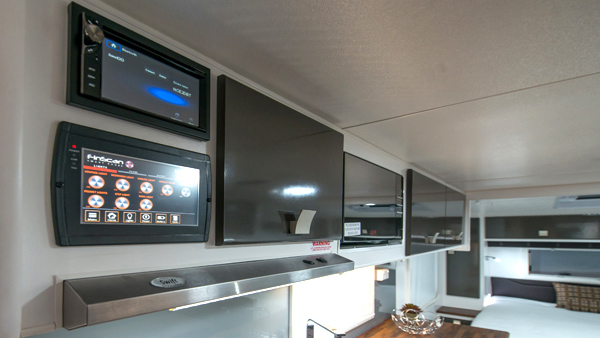 Lastly, there are plenty of entertainment options as the Hamilton comes with a DVD player with LCD monitor, 2 outside speakers, and 2 roof speakers. Also worth mentioning are the RV Wi-Fi and reverse camera with monitor.
Plumbing
Finally, Hamilton's plumbing is also state of the art. Starting with outside shower, life gets even better with a hot water system. A water filter is also built into the tap.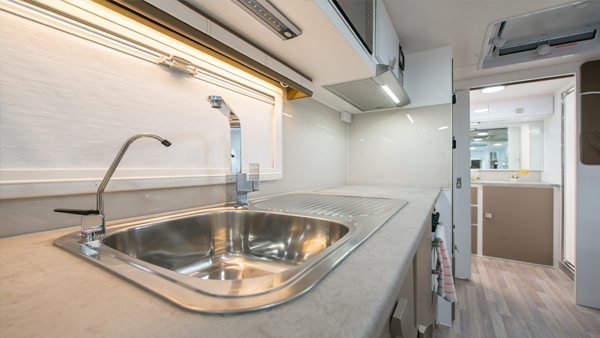 Additionally, all the pipes are protected. There are two water tanks in total, galvanized using water tank guards. You also get a 3kg washing machine and a (3-way) fridge.
Summary
There is a lot more features not mentioned here that make the Hamilton stand out. In a nutshell, this caravan is a masterpiece worth every penny. If you're looking for a Retreat caravan to take on your next vacation, you couldn't get a better luxury caravan than the Hamilton.