Staying fit as a family is a great opportunity for quality bonding and, of course, remaining healthy. There are so many fun activities you and your family can do to keep everyone engaged and in shape.
However, the question is: how will you be able to keep your children interested in staying fit?
Well, if you ever wanted to keep in shape as a family, but don't know what activities you can do, stop worrying because we have got you covered!
Here are 10 fun and exciting ways to stay fit as a family:
1). Create A Family Olympics
There is nothing kids love more than a good competition! Make staying fit more interesting by hosting your very own Family Olympics!
You can create your own athletic games or split up into teams and compete in different sports. You can even spice it up by creating awards! The possibilities are endless!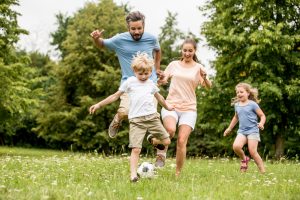 2). Follow An Online Workout
Online workouts are all the rage these days because you can exercise from the comfort of your own home. There are thousands of variations online and there are so many options, you will never run out.
Follow a friendly-family online workout and exercise the day away for a fun way to keep everyone in your family fit!
3). Designate A Family Fitness Night
Have a family fitness night! Assign at least one night a week where you and your family can choose an activity to do.
It could range from soccer to jogging, to backyard cricket—you're only limited by your imagination!
To make family fitness night more inclusive, every person can have a turn at choosing what activity to do on family fitness night.
This way, everyone will feel involved and the whole family can experiment with different ways of staying fit.
4). Go For A Simple Walk
Walking is an underestimated activity in keeping fit. However, it is one of the best ways to get fit!
Take a stroll around the nearby park with your family and experience the outdoors. You can even make walking more interesting by playing classic games like I Spy! Staying fit does not have to be boring.
5). Run For Charity
Make exercise even more valuable by running for a cause. This is perhaps one of the best ways of staying fit because not only are you and your family staying in shape, but you are also giving back to places in society that need it the most.
Win or lose, the experience will definitely be a treasured one for your family! You can even turn it into a family tradition—one charity run every year or more if your family love it that much!
6). Learn A New Dance Together
Groove with the whole family and get your body active! Learn a new dance together and burn all of those calories.
You can even mix it up and learn a new genre of dance every week! Perhaps one week could be hip hop, and the next can be something new!
There are so many variations of dance and many opportunities to explore most, if not all, of them!
7). Bike Together
Biking is a classic family bonding activity. It is something that your children can learn and keep for the rest of their lives.
Go biking together in the nearby park or biking trail. However, don't forget safety first! Make sure everyone is wearing helmets and protective gear before you head on out.
8). Go Hiking Together
Hiking is another classic outdoor activity that everyone in the family can enjoy. After all, who wouldn't want to immerse themselves in nature and get in a great workout?
9). Take An Exercise Class
There are numerous exercise classes that you and your family can take. It is a great way to explore enjoyable ways of staying fit especially with the help of an instructor.
These classes can also come in different programs and packages to help fit the needs your family is looking for, which makes the experience much more enjoyable and fun for the whole family.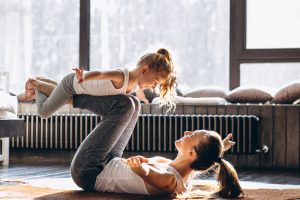 10). Cook Healthy Recipes
Yes, staying fit entails exercise, but diet is important as well! As a family, explore varieties of healthy recipes online from meals through to snacks to help keep healthy.
There are a lot of fun recipes that you can all make together, creating lasting memories while staying in shape!
Final Thoughts
Staying fit does not have to be boring. There are a great number of activities that you and your family can do together, each open to your imagination with limitless possibilities.
The great thing is that most of these activities can be done while you and the family are also caravanning and camping in the great outdoors.
This is the perfect way to stay in shape and also have some fun while exploring the great outdoors
So, what are you waiting for? Let's get physical!
If you are looking for the best caravans in Australia, you can't go past Retreat Caravans. Please check out our range of caravans below, all carefully designed with you in mind: