The Fraser is built to conquer the most challenging terrains without compromising comfort, It is unique both in its build and furnishing, offering you a mix of fun and adventure.
The luxurious interior, fitted with heated seats and the best appliances will wow you from the very beginning. The tough exterior build, meanwhile, guarantees complete safety even in the middle of the wild.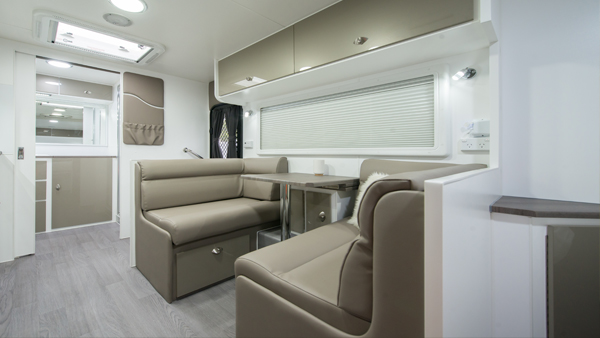 Its key features include;
A Cruisemaster CRS suspension
15×235 Tyres + 6″ Aframe
Grey water tank
2 x 150watt solar panels
A Compressor fridge
D035 Hitch
Reversing Camera and
2 x 120 amp batteries
Other than these, the following are other luxury amenities you can expect if you purchase the Retreat's Fraser caravan;
Interior components
The first thing you notice on the interior is the Fraser laminate splashback.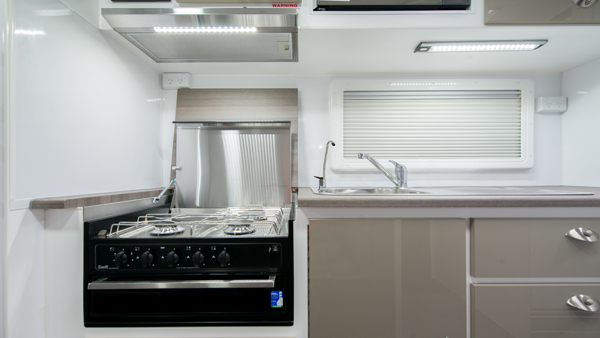 This takes inspiration from the laminate kitchen finishing commonly found in homes. Laminate is popular because it protects interiors when cooking, because it can resist stains, scratching and is very easy to clean.
Other than the laminate splash-back, the Fraser Hamilton caravan boasts acrylic doors, self closing drawers, a microwave, mini grill series-2 upholstery, two towel rails, and full height head bump.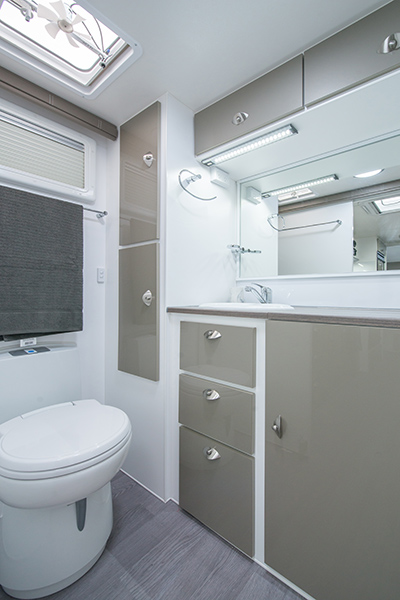 The bathroom is made entirely of fiberglass and there is an air conditioner on standby to ensure that you're always breathing the freshest air.
Exterior components
Exterior components include gal lined tunnel boot, a rounded entry door, black mate front and rear aluminum panels, and a ranger roof hatch.
One thing you'll quickly notice is that the higher end is also protected. Retreat caravans are meant to provide fun but are still ready for the dangers in caravanning lurk everywhere and This additional protection helps keep you safe especially during the night.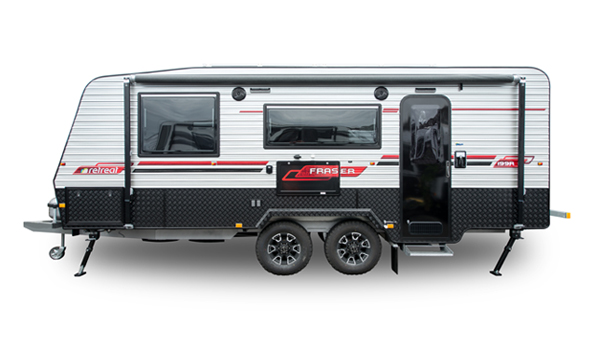 We should also mention that there is an outside table and silver stucco cladding. The windows are double glazed for improved airflow and increased protection. These elements are integrated into the design of the Fraser, making for an awesome exterior. The design is modern and the finishing is exemplary.
Electrical and electronic component
To make your trip more enjoyable, the Fraser is packed to the brim with electronic gadgets. There are two solar panels atop that can trap a total of 300 watts of electricity. This can power a small house.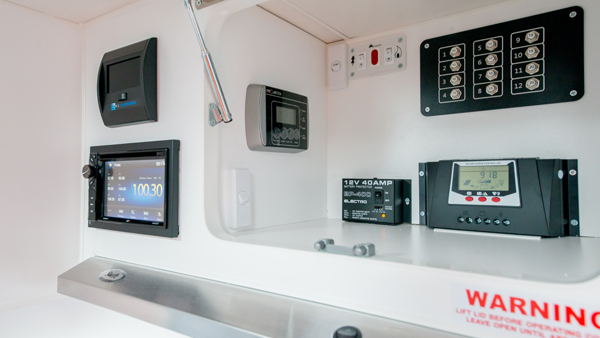 This is perfect for the caravan's interior. With the assist from the two 120 amp batteries, the solar panels help power the caravan's external TV and DVD player (which has an LCD monitor). You can also conveniently charge all your electronic devices thanks to a 25amp battery charger and the 12 volt plug found in the caravan.
Two outside speakers and two roof speakers connect to the TV and DVD or any other device you might have brought along to help boos sound as you watch your favorite programs or listen to music.
But that's not all. The Fraser is well lit with lights found at almost every corner. It is also well protected with a reverse camera plus a monitor provided to help you better secure yourself.

Plumbing elements
The caravan has a grey water tank, hot water service, two large water tanks, pipe protection and a water filter to ensure that the water is safe for drinking. Of course, we encourage retreaters to bring their own bottled water for drinking.
Also noteworthy is the 3kg washing machine, the 190ltr compressor fridge, and the ceramic cassette toilet. That should be enough to serve up to three people meaning you can comfortably host your family aboard the Fraser.
Summary
All in all, this is a great caravan for all types of retreats. Whether you're camping at the beach or be spending a few nights at the foot of a mountain, you'll feel comfortable and right at home. Remember that there are thirteen different floor plans to choose from! See for yourself, watch the video below.