True to its name, the Daydream caravan is built for dreamers. It's built for the believer who sees obstacles as challenges. This is because with the Daydream, you can cover every distance and even climb mountains. Or take it to the shores of the largest oceans and deep of the wildest forests because the Daydream knows no limits. Now all you need is courage, then you can truly conquer the world with this caravan.
Armed with a control rider twin shock, and 16 x 265 tyres, this cruiser knows no limits.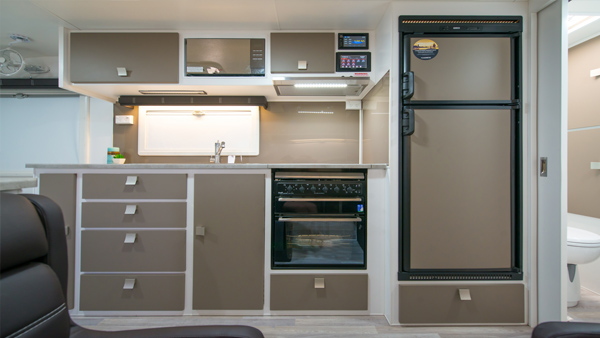 Among its key features include:
A FinScan RV power and monitoring system;

A Grey water tank;

A compressor fridge;

Di bond cladding;

A d035 Hitch;

Hot dip galvanised chassis; and

Sway control
Besides these, here is what else you can expect if you purchase the Daydream.
Interior features
This caravan is fitted with some of the most comfortable interior finishes. From the sofas to the bed and the bathroom to the toilet, the luxurious features will make you feel like a king or queen.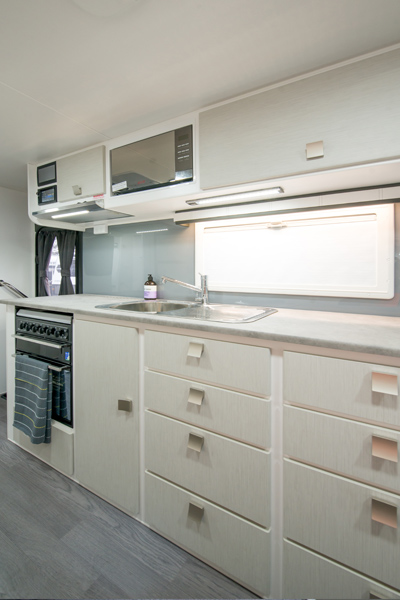 First, there is the Perspex splash-back. This is different from the laminate splash-back found in other Retreat caravans.
Perspex is a premium branded acrylic manufactured to the highest standards. It is currently regarded as the best acrylic available. It has high shock and abrasion resistance, excellent weather and UV resistance, and the best optical clarity.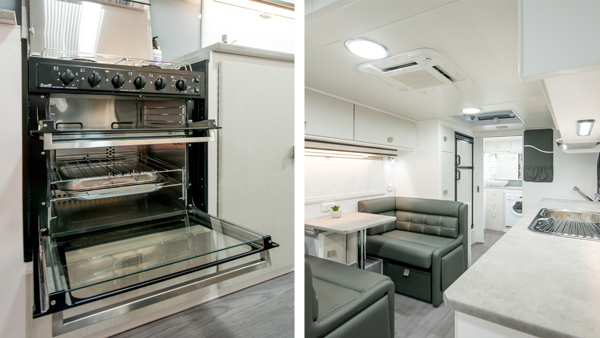 This also has the fan forced oven and the Form 90 bench-top that other Retreat caravans don't have. Granted, other caravans don't have ovens or bench-tops, but the Daydream's stand out in both cases.
Plus, there is a microwave, piano hinge doors, series 3 upholstery, two towel rails, an air conditioner, fiber-glassed shower, and so much more.
Exterior features
Again, the Daydream's exterior is a little different to what you have seen before. It has steel towel rails that don't rust. There is a stone-deflector on A-frame. You get 2 four seasons of roof hatches. And the round entry door is wire-meshed for improved protection.

You also have extra high end protection, a generator slider, tail lights with built-in reverse lights, wheel spots that match the side finish and white di-bond cladding. This stands out from the aluminum cladding found on most caravans.
Moreover, the windows are double glazed, there is a TV entertainment hatch, and the caravan also has an outside table as well as block c/plate rear roll.
Electrical and electronic features
This is where the Daydream really trumps other caravans. It has maxilamp tail lights, 2 LED work lights, LED strip lights under the kitchen/lounge pelmet, LED lights in the rob cutouts, and lights in the stepwell.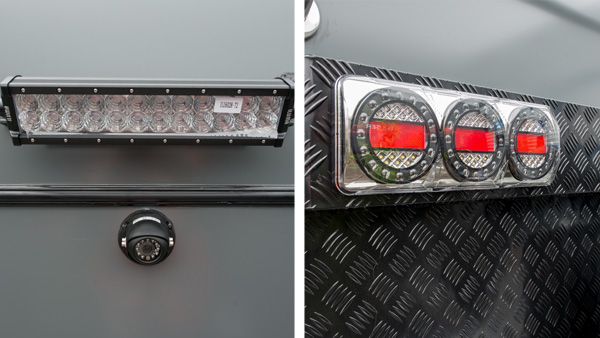 Then, there is RV Wi-Fi, a DVD player with LCD monitor, 2 outside and 2 roof speakers, and a digital Wynguad antenna.
All these are powered by a FinScan RV power and monitoring system, 3 x 120 amp AGM batteries, and 3 x 150 watt solar panels.
Plumbing
The plumbing system is highlighted by a manifold system and premium tap water (not very common in caravans). Occupants also benefit from pipe protection and checker plate water tank guards – there are three large water tanks in total.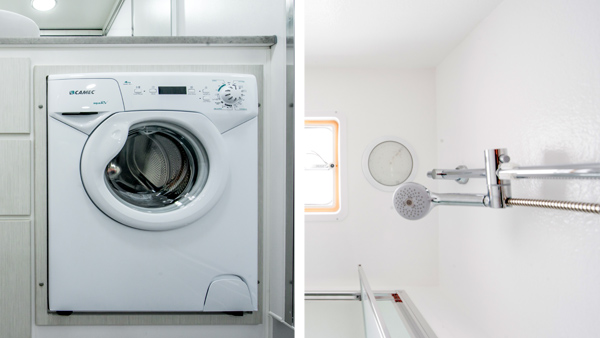 Other features are a raised basin, a 218ltr (2-way compressor) fridge, a ceramic cassette toilet, an outside shower, a 4kg washing machine and a grey water tank.
Note that a washing machine with a 4kg capacity is big. This usually serves small households with families of three or four.
Summary
If you're on the lookout for the best caravan with loads of features that bring comfort and convenience, Daydream should be on top of your list. It gives you the best value for your money. Take a tour and see what the Daydream has to offer, watch the video below.