Going on an outback adventure can be more of a chore than fun when you're new to it. When your house is shrunk to a caravan, you need a quick and efficient way to keep it clean and well-maintained for your maximum safety and enjoyment. Below are caravan cleaning tips that you should remember for easy outback living.
Caravan Cleaning Hacks
Caravan cleaning can be seasonal or annual. Considering its size, cleaning your caravan once a week may not always be the best option for you. That said, the best way to keep your caravan clean is by minimising the introduction of dirt from outside.
Use the right products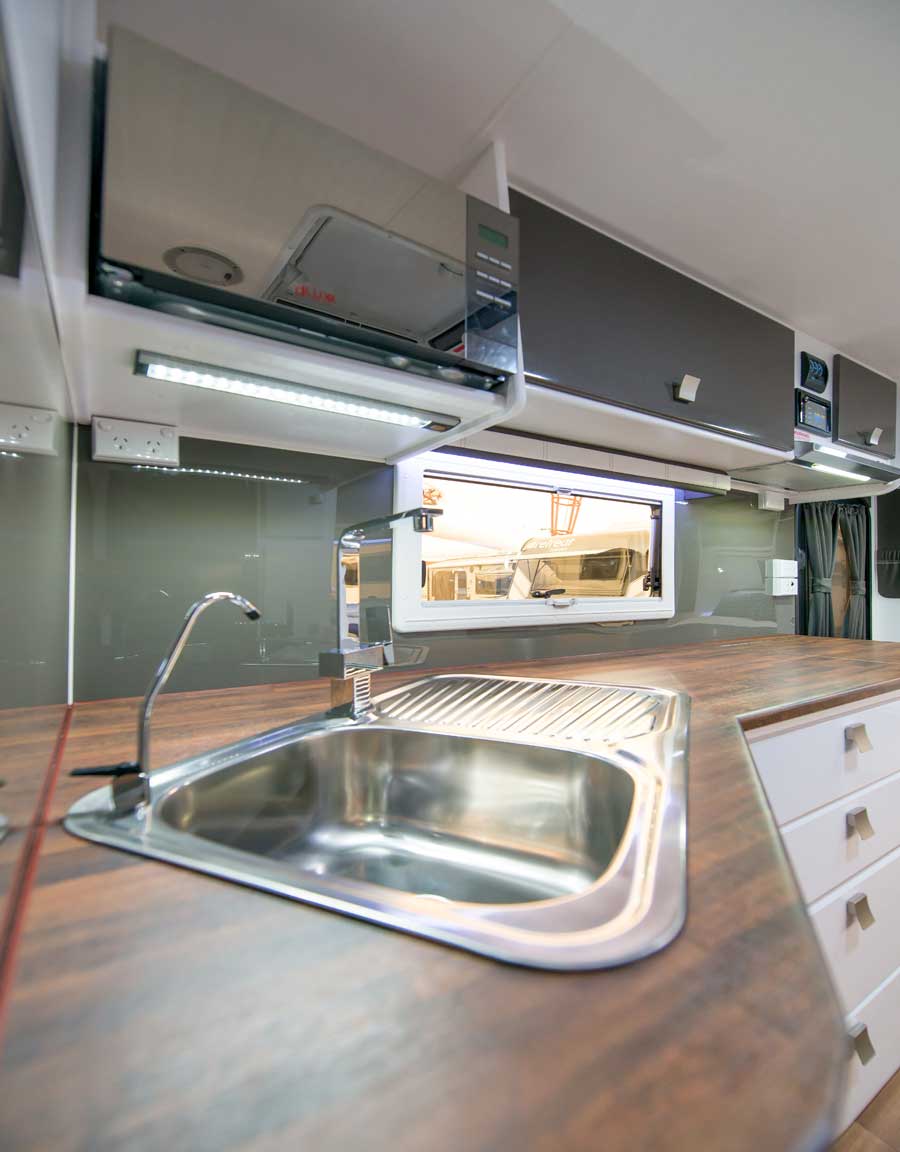 Retreat Caravans Magnetic – Kitchen
You might think using cheap household cleaning products on your caravan is a great idea. While they may do in a pinch, they're not really designed to provide the quality and long-term protection your caravan needs.
It's bad economy to use cleaning products other than those specifically formulated for caravans. To keep your caravan in great condition and to prevent the deterioration of its chassis and other parts, always use the right cleaning agents.
For example, using dish soap strips the paint of wax and protective coating, leaving it vulnerable to scratching, the sun, dust and debris. False economy like this can only lead to premature damage and costly repair of the paint job. You will save more money in the long run by using the right cleaning products.
Wash in the shade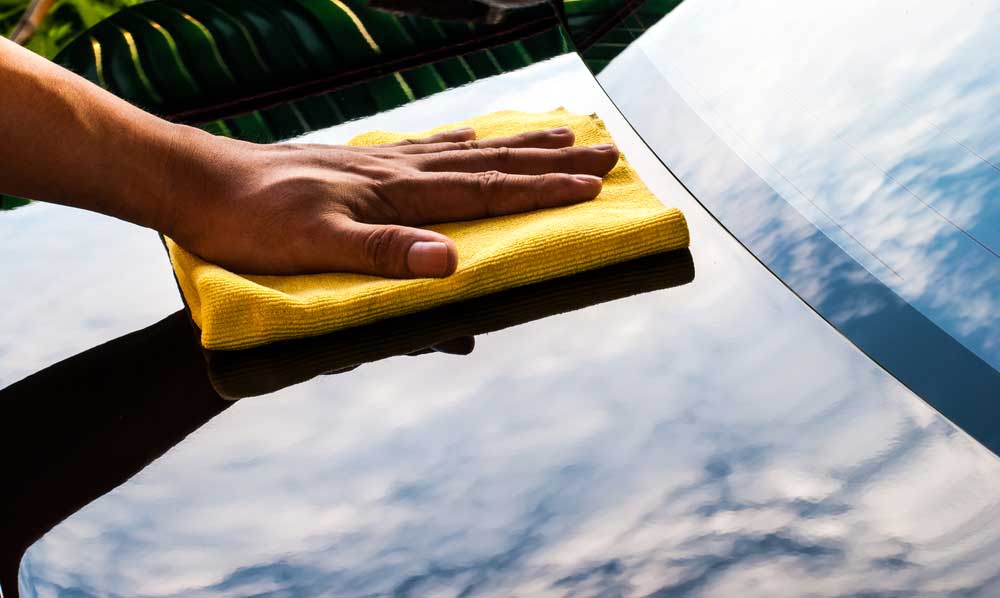 Use Chamois or Microfiber towels to remove water spots. These scrubs are super-absorbent and they dry the van evenly.
Wash from top to bottom
Begin from the roof, move onto the exterior walls and finally underneath the caravan. Working with the pull of the gravity is the best way to save time, water and energy.
Working in the opposite direction will result in overworking by redoing dirt runoffs on previously cleaned surfaces.
Use moderate water pressure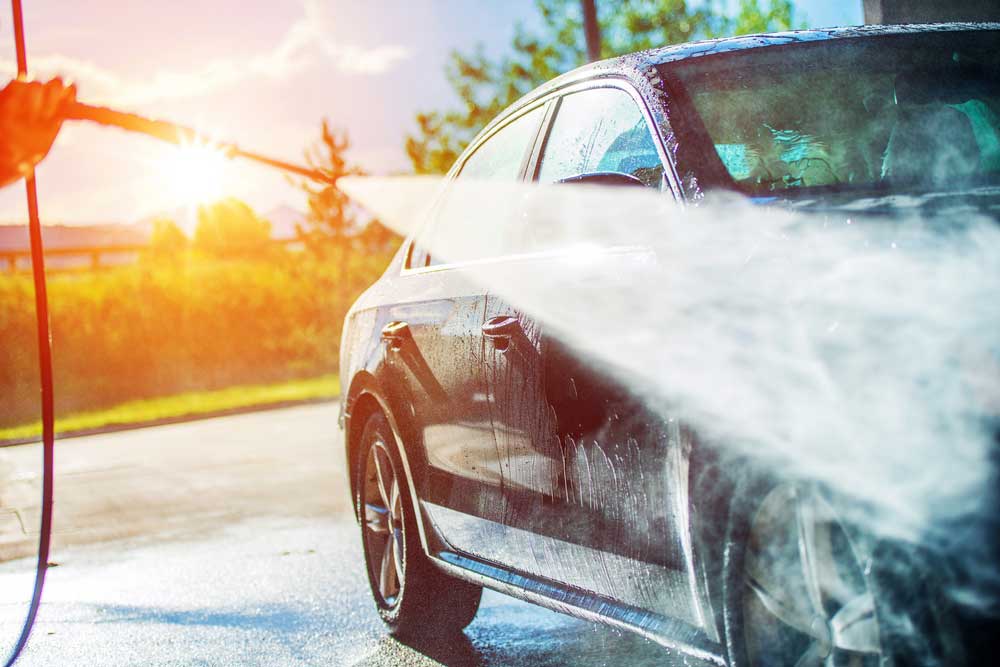 A stream of high pressure water can force its way into seals and cavities, causing corrosion and damage to your caravan. Using high water pressure cleaners is definitely not recommended for cleaning caravans.
Pay attention to hard-to-reach areas
An important part of keeping your caravan clean is by paying attention to hard to reach areas.
Start with the roof. Use a step ladder if the roof cannot support your weight (check your manual for this). Remove debris and water sediment from various areas of the roof. Sediment and moisture buildup will destroy the roof if left unattended.
Prevent dampness and moulds from developing
With its limited space, caravans often get stuffy or congested during rainy weather. Use a dehumidifier to prevent dampness and the growth of moulds in the interior. After washing the interiors of your caravan, use a dehumidifier to get rid of lingering moisture.
Clean off the moulds with equal parts water and vinegar and a quarter part of olive oil. Use gloves when applying the cleaning solution. Allow the area to dry thoroughly.
Storage Hacks for Maximising Space
Here are some storage hacks to keep your caravan clutter-free. Free up precious space by repurposing bag holders and portable shoe racks, which you can use to store and organise various items.
Money in coffee cans
As a caravanner, guests coming over for coffee or tea can compromise your privacy. When you're living in such a tight space, where will you keep your money safe? The best way to hide your money in a caravan is by keeping it in an empty coffee or tea can.
Makeshift shelves
Makeshift shelves are a handy way to store supplies and items you need on the road. Take a cup basket, hooks and curtain rings. Now, glue the cup basket on the empty top halves of all your shelves in the wardrobe and kitchen with the help of hooks and curtain ring to arrange more items without clutter!
Storing spices and sauces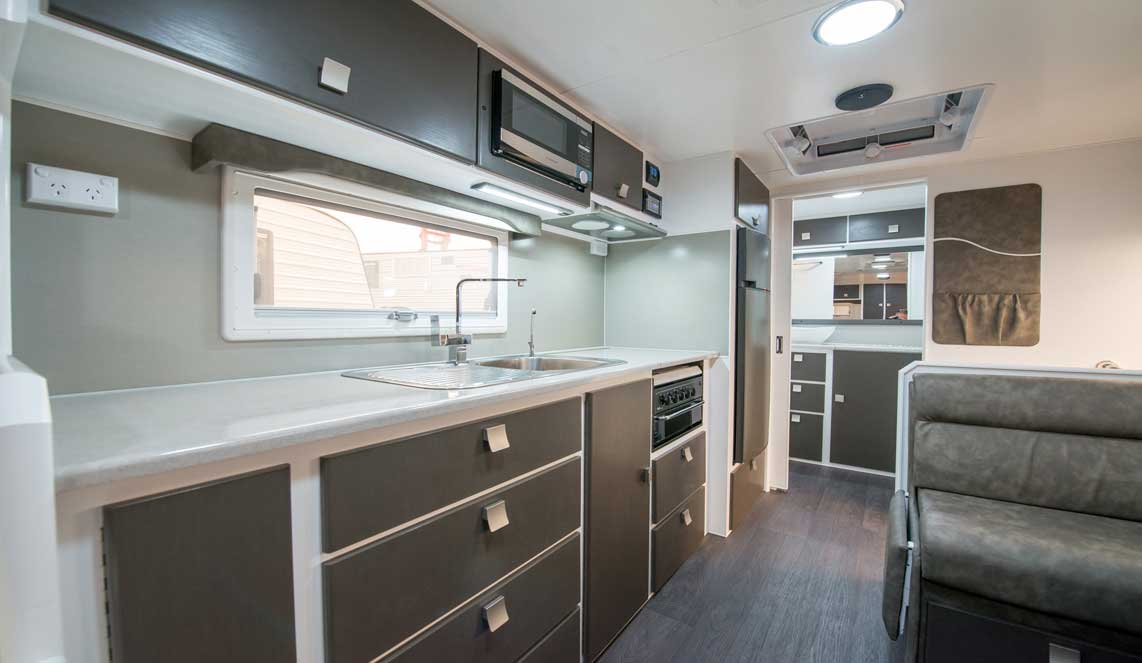 Retreat Caravans Macquarie Kitchen
Another bright idea is to reuse the glass jars and containers that you get when buying goodies. Even tic-tac packs are ideal for storing small quantities of spice air-tight and fresh. These tic-tac cans can save money and also keeps storage of spices efficient!
Cost efficient dividers for drawers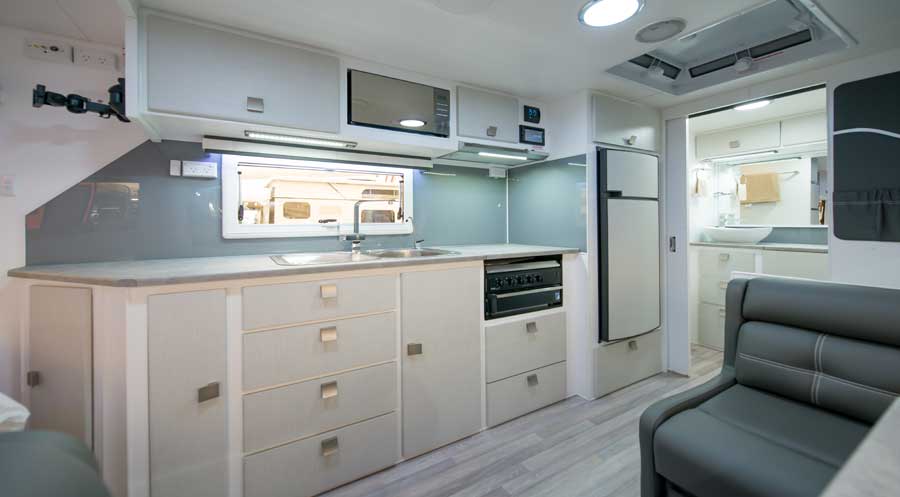 Retreat Caravans Fraser – cabinets and drawers
Making dividers within drawers is not a new idea. However, making them yourself, using cardboards is an excellent way to keep things organised. The dividers will keep your stuff intact during bumpy rides too.
Adding muffin foils, egg cartons and shoe boxes to your divide your drawer also gives it a chic and smart look.
Use your ceiling for storage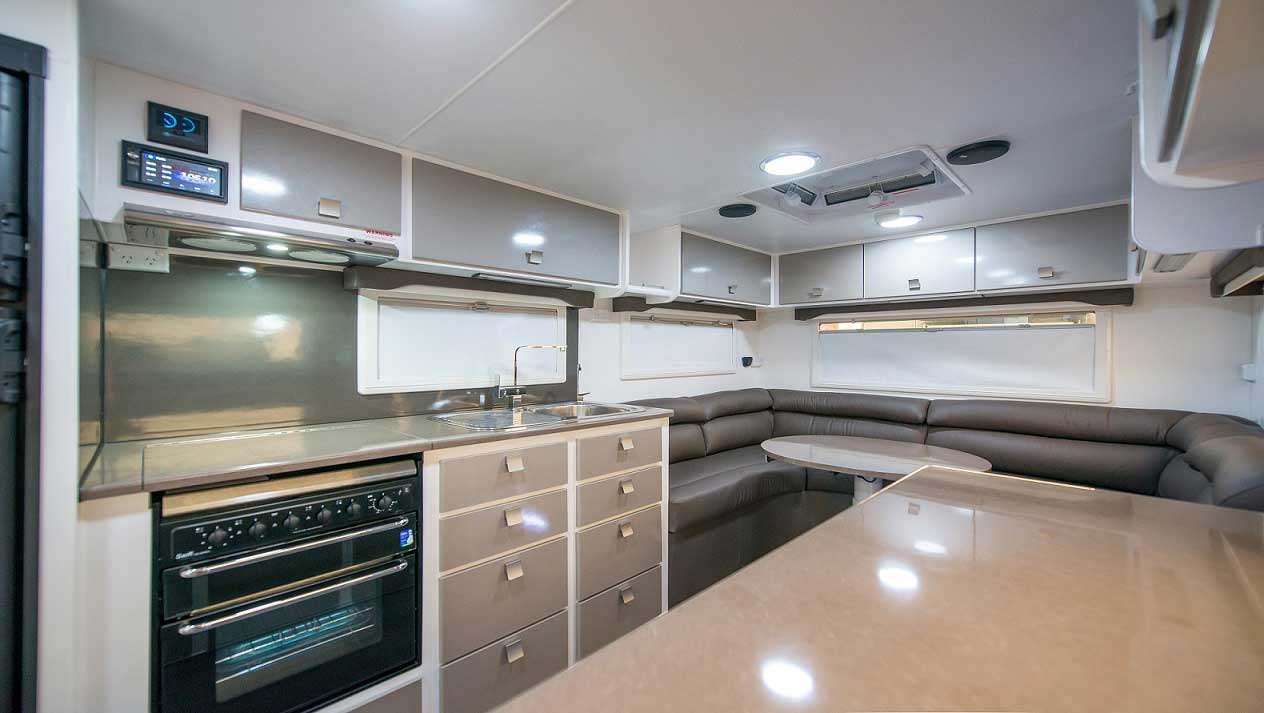 Retreat Caravans WhiteHaven – multiple storage
A caravan ceiling is often an underused space that you can serve as storage. Use your caravan ceiling to dry clothes indoors during wet weather or use it to store various other stuff.
Folding Furniture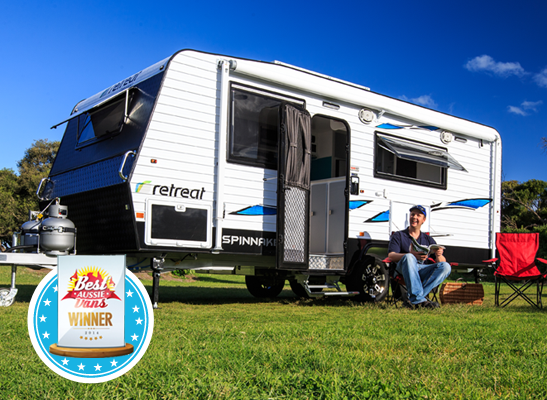 Save space is by using folding furniture. These can be used indoors and outdoors without eating up space like a rigid table or chair. Within a space of a 17" cardboard, you can squeeze in a complete folding table plus chair set and take it for outdoor leisure camping any time!
Storing Rolls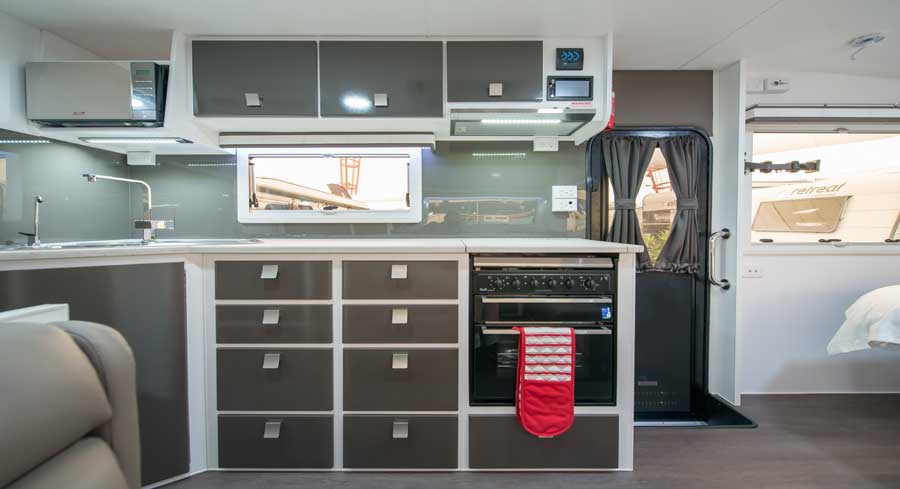 Utility hooks are an excellent way to store foil wraps, sheets and other rolls in the kitchen. Place the adhesive hooks at an exact length with respect to the foil, in your cupboard. Fix it firmly on both ends and enjoy using the foils without tumbling over or cluttering it in a cupboard!
Using hanging fabric
There are a million storage hacks using shoe racks. From using them to store small bottles, you can also use these for storing kitchen containers when travelling. You can also attach these around the bed and other furniture to make more space for knick knacks.
DIY Gadgets & Devices to Try When Caravanning
Most full time caravanners are also DIYers. If you're into DIY projects, the following tweaks for accessorising, cleaning and storing stuff in your caravan will blow your mind!
The best benefits of using these multi-purpose DIY gadgets or ideas is to have a fun, mess-free, and smart caravanning free of drudgery.
Moving Herb Garden
A good room freshener that also helps improve your caravan's indoor air quality, windowsill herb gardens are easy to build and economical to keep. Fixing potted parsley, rosemary, coriander, dill, even, tomato a mobile herb garden in your caravan is ideal for making sumptuous feasts anytime in your rig!
Solar Lights
Image Credit to SolarCampingAustralia
Aside from being energy friendly, solar panelled lights are economical and environmental too. They make great night lights with the least amount of effort. Placing it for a few hours under the sun will do the trick. Portable solar panels can also help be used as warning lights or even decorative night lights without wasting your caravan's battery!
Sage as bug repellent
Burning sage by the campfire keeps the bugs and mosquitoes away from your rig for hours. Considered the most cost-efficient option for driving mosquitoes away, tying sage in a bunch and burning it will do the trick.
Water lantern
A decorative bright light that needs no battery to run, a water lantern is an exclusive DIY hack for off road caravanners. You can make it by fixing a headlamp or any bright light source shining into a clear water or milk container. The light transmitted through the bottle is glare-less and it saves energy!
Cord Organiser
Empty reels of any size are ideal organisers for keeping cords tangle-free. You can even make one out of an empty toilet roll. Adding an individual label to each will help you locate the cords easily too!
Insulate your Windows with bubble wrap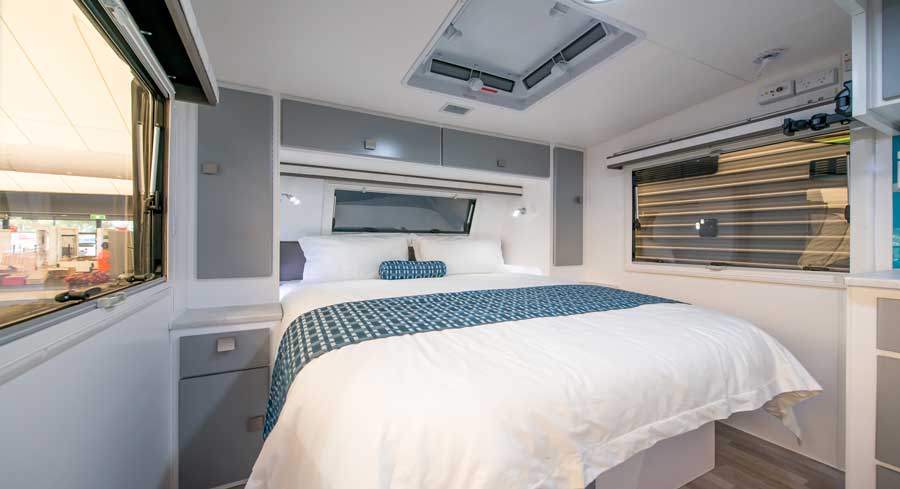 Retreat Montague – clear windows
The cheapest and easiest way to insulate a caravan is using bubble wrap sheets and water spray. To insulate your caravan windows, cut the bubble wrap to the size of your window and apply an even spray of water to get the bubble wrap to stick.
Soap in a stocking
As popular as the 'soap on rope' trick, this DIY hack not only saves soap, but also keeps it dry, making it last longer. Just place your bar of soap inside a stocking and hang it.
Battling windy nights like a pro
When the wind rattles the awnings, peaceful sleep is just impossible. Next time the wind tries to shake your caravan, undo the awnings and redo it after making twists and reattach the awnings. We guarantee you that the rattling will stop and you will have peace!
Conclusion
Spanning from keeping your rig clean to living smartly, there are many hacks to enjoy an easy outback caravanning. Give these tips a try. Caravanning just might prove to be the best lifestyle for you! For more of caravaning tips check our blog.
Travel in comfort & style across Australia with our luxury caravans, for enquiry CALL US (0)3 9357 6493.