Venturing into the great outdoors can come with certain challenges and one of these challenges can often be food. What to eat, where to eat it and how to prepare it without the usual conveniences of our home kitchen is sometimes a stressful experience and takes quite a bit of planning and thought.
However, just because you are in a holiday park or camping spot, doesn't mean that you have to give up the comfort of great food. Most people are looking for quick and easy meals when they are camping so we've compiled a few awesome family friendly recipes that you can cook outdoors on your next camping trip. Enjoy!
1). Camping Breakfast Skillet
Of course, we have to start with the most important meal of the day: breakfast! A camping breakfast skillet is one of the most convenient ways to satisfy your early morning hunger. Here's the recipe!
INGREDIENTS
4 cups cubed mini potatoes
1 tbsp butter
1 cup sliced and cubed kielbasa or cooked ham.
4 eggs
1 cup aged cheddar cheese
INSTRUCTIONS
1). Turn on the camp stove and heat up the cast iron skillet.
2). Add 2 cups of water and the potatoes. Then bring the water to a boil.
3). Reduce the heat and simmer the potatoes for 10 minutes or until they are tender.
4). Drain the water and set the potatoes aside. Add butter then add the potatoes and kielbasa or ham once it has melted. Cook for three minutes and stir occasionally.
5). Make four spaces in the potato mixture and add the eggs in the spaces. Cover the skillet and cook for two minutes.
6). Sprinkle cheese over the egg mixture then cook until eggs are set and cheese is melted.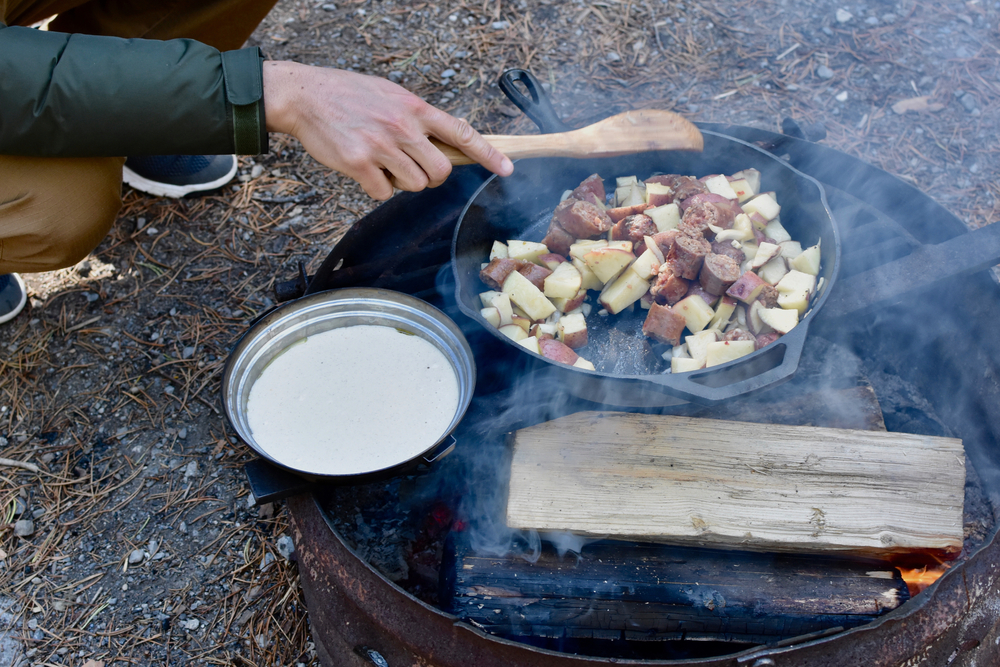 2). Campfire Nachos
Nachos are incredibly easy to make–but they're also one the most flavourful dishes out there! Keep on reading to learn how to make it.
INGREDIENTS
1 200g bag tortilla chips
1/2 cup sliced black olives
1/4 cup sliced green onions
2 cups shredded taco cheese or your favorite blend
2 jalapenos sliced and seeds removed
Cilantro for garnish (optional)
Salsa, sour cream and guacamole, for serving.
INSTRUCTIONS
1). Layer 1/3 of the tortilla chips on the bottom of a cast iron skillet.
2). Add ⅓ of the cheese, ½ of the olives, and ½ of the green onions on top of the tortilla chips
3). Add another layer of ⅓ chips and ⅓ cheese on top
4). Create the final layer with the rest of the chips, cheese, olives, and green onion. Top with jalapenos
5). Loosely cover the skillet with foil then place over a fire or grill on medium heat
6). Cook for 10-15 minutes or until the cheese is melted.
7). Garnish with cilantro and serve with guacamole, salsa, and sour cream
3). Campfire Pizza
Who doesn't love pizza? With this easy campfire recipe, you won't have to give up this staple dish even in the outdoors!
INGREDIENTS
1 large piece of pita bread
1/2 cup pizza sauce
3 slices salami (sliced into strips)
3 slices bacon (sliced into strips)
1 cup mixed vegetables or whatever topping you like
1 cup pizza cheese (shredded)
INSTRUCTIONS
1). Spread the pizza sauce across the pita bread and then sprinkle cheese on top.
2). Top with bacon, salami, and vegetables or topping of choice.
3). Slide the pizza onto a foil base folded three times.
4). Cook on a campfire grill until the cheese is melted.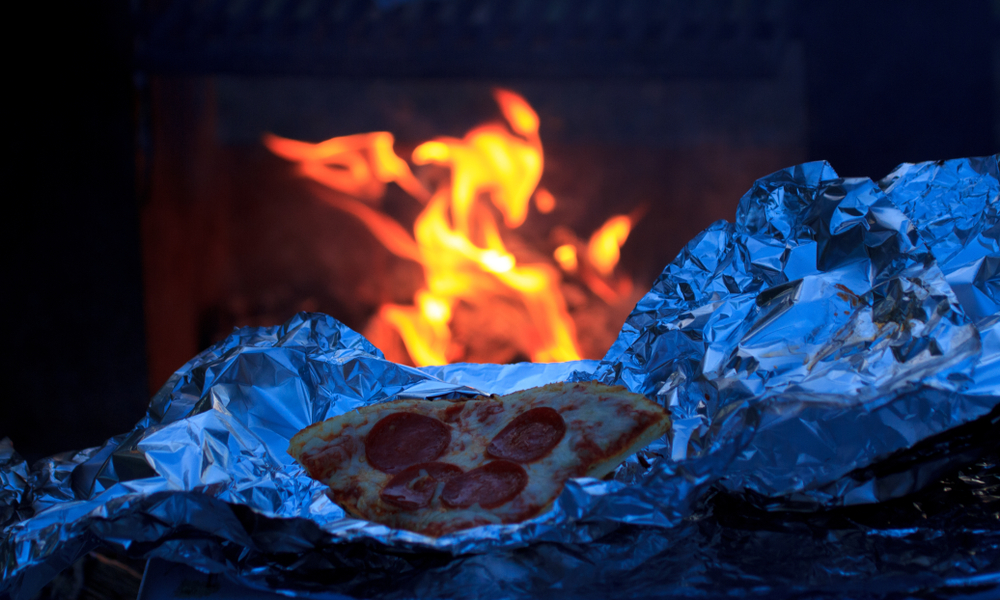 4). Campfire Smores Skillet
Most people have tried the traditional camping dessert: smores. However, have you ever tried a smores skillet? If you haven't, you don't know what you're missing out on!
Making smores in a skillet has never been more fun and convenient, rather than having to make individual servings. The best part? The recipe is incredibly easy!
INGREDIENTS
1 packet Arnott's Granita biscuits
1 (300g) bag marshmallows
1 bar Hershey's chocolate, cut into squares
INSTRUCTIONS
1). In a large cast-iron skillet, layer the chocolate, marshmallows, then Granita biscuits.
2). Place the skillet over a campfire then cook until the marshmallows are soft and the chocolate has melted.
Final Thoughts
Who said cooking while camping in the outdoors can't be fun? There are so many great recipes out there, and the best part is that they are all easy to make! Keep these recipes on your camping checklist for your next outdoor adventure.
If you are planning to go on a camping adventure in the great outdoors, there is no better way to do this than with your very own caravan.
If you are looking for the best caravans in Australia for your next big road trip, you can't go past Retreat Caravans. Please check out our range of caravans below, all carefully designed with you in mind: