Have you been searching for the perfect caravan for your family adventures? When it comes to choosing a caravan, there are so many options and considerations. This can make the purchasing decision quite daunting and overwhelming.
However, your search is over as we have the perfect option for you! Please keep on reading to learn more about the Retreat Fraser!
The Retreat Fraser is the perfect semi-off road caravan that allows you to experience rugged adventures without compromising comfort and luxury.
The Fraser is hardwired with all the premium features to make each and every one of your journeys the journey of a lifetime. Some of these key features include:
3.5T Independent Suspension
16 x 265 Tyres + 6" A-Frame
110lt Grey water tank
Sway Control
Premium Audio System
2 x 110lt Water Tanks
150 Amp Lithium Battery
2 x 170-watt solar panels
Compressor Fridge
D035 Hitch
Tool Box On A-Frame
Reversing Camera
Black Accessories
Transform X Flooring
In this blog, we're going to share 7 reasons why you need to buy a Retreat Fraser.
1). Slick Exterior
Some of the major upgrades of the Retreat Fraser include the slick exterior, which features modern double glazed windows, Roll Out Awning, smooth walls and a checker plate side and rear protection. Moreover, there is also a Toolbox and Tube Lined Tunnel Boot that make storage extremely convenient and easy.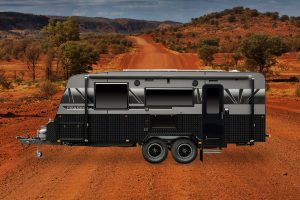 Other external components of the Retreat Fraser include a rounded entry door and a skylight to let in the morning sun. All of these amazing features are meant to not only make your caravan look good but it also means it will be well protected against all types of terrain. This is one of the main reasons you will fall in love with the Fraser!
2). Interior: Home Away From Home
The interior of the Retreat Fraser is designed to be your home away from home, ensuring that your travels are as comfortable as they can be. Some key features in the interior of the Retreat Fraser include bonded leather upholstery, self-closing extension drawer runners, rolled post form bench tops, a full fibreglass shower and of course, an air conditioner for the hot summer months.
However, another important feature is the Fraser laminate splashback, which takes inspiration from laminate kitchens that are commonly found in homes. Laminate is a great material because it is a good agent for protecting the interior when cooking. It can also resist stains and scratches and is easy to clean.
3). Suspension
The Retreat Fraser is equipped with 3.5T Independent Suspension, which is designed to endure the bumpiest roads and the most unpredictable of terrains. Doesn't this sound like the perfect caravan already?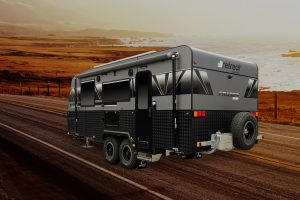 4). Electrical and Electronic Components
The Retreat Fraser is equipped with a wide variety of electronic gadgets. Some of these include two solar panels that can hold a total of 340 watts of electricity (enough to power a small house!), which also comes with a 150 amp lithium battery to help power the caravan's external TV with LCD monitor.
Aside from the solar panels, you can also charge your own electronic devices with the 30amp lithium battery charger and the 12-volt plug located in the caravan. There are also two outside speakers and two roof speakers that can connect to the TV so you can watch and listen to all your favourite programs.
5). Plumbing
Of course, plumbing components are another important feature that the Fraser has upgraded just for you! Some plumbing elements include a 110lt grey water tank, hot water service, two 110lt water tanks, pipe protection, and a water filter so you can drink clean and safe water.
On top of this, the Fraser is also equipped with a 3-kg washing machine, a 188ltr compressor fridge, and a ceramic cassette toilet. This caravan is truly as luxurious as any caravan can get!
6). Multiple Designs
The Fraser comes in a wide variety of layouts—over 20! There are also various floor plans that you can choose from, some even coming with single begs and customized seat arrangements. So, not only can the Fraser offer you the most luxurious option when it comes to caravans, it can even offer you a chance to truly make it your home away from home!
7). Value For Money
The most important reason of all to buy a Retreat Fraser is because of the value for money. As we can see from all of the above features, the Fraser is an innovative caravan that provides you with both luxury and comfort that is second to none.
With over 20 different floor plan layout options to choose from, you can virtually create a caravan that is fully tailored to your specific needs and make you the envy of all your family and friends when you head off on your next big adventure. You can't get much better value than that!
Final Thoughts
With summer only around the corner, now is the best time to start planning your next big adventure and what better way to enjoy the great outdoors than with a Retreat Fraser.
If you are looking for the best caravans in Australia, you can't go past Retreat Caravans. Please check out our full range of caravans below, all carefully designed with you in mind: