Do you and your family need a quick, convenient, but delicious meal to eat while camping?
Well, we've got just the solution for you with these simple 5 one-pot camping meals that the whole family can enjoy.
The best thing about these recipes is that all you need for each one is a skillet or pot which means you don't need to use multiple pieces of cooking equipment which saves space and makes cleaning up a lot easier too!
So here we go with our top 5 one-pot camping meals the whole family can enjoy.
1). One-Pot Taco Skillet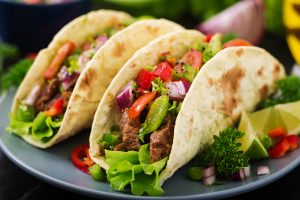 Everyone loves tacos. Its richness in flavour and texture makes it a timeless go-to dish. If you want to know how to make a one-pot taco skillet, here it is below:
Ingredients
1 tablespoon oil

1 green capsicum, deseeded and diced

½ onion, diced

750g minced beef

2 tablespoons taco seasoning

2 cloves garlic, minced

½ cup white rice

400g fire-roasted tomatoes

¼ cup water
Toppings that may be included are shredded cheese, avocado, cilantro, lime juice, and tortilla chips or nachos.
Procedure
Step 1. Over medium heat, heat one tablespoon of oil in a skillet. Add the onion and capsicum and saute them for 5-6 minutes until they are soft and slightly brown.
Step 2. Add together the minced beef, taco seasoning, and minced garlic. Cook for three minutes until the meat begins to brown.
Step 3. Add the rice and stir it in with the beef and vegetables. Afterwards, add the tomatoes and ¼ cup of water. Cover the skillet and let simmer for 20 minutes.
Step 4. Remove from heat and serve with toppings on the side or however you choose.
2). One-Pot Beef Stroganoff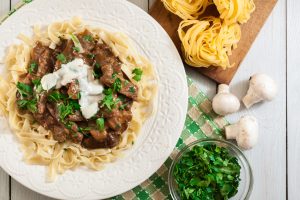 This one-pot beef stroganoff dish is sure to make your camping dining experience unforgettable. Here is the recipe:
Ingredients
250g strip steak

1 brown onion, small

2 cloves garlic

200g mushrooms

1 teaspoon thyme

1 ½ cups broth

1 tablespoon Worcestershire sauce

150g wide egg noodles

1 teaspoon salt and pepper

2 tablespoon oil

½ cup sour cream, full fat
Procedure
Step 1. Salt and pepper both sides of the strip steak.
Step 2. Preheat the skillet and then add one tablespoon of cooking oil. Wait for the oil to heat up then add the strip steak. Sear for 4-5 minutes on one side and 3-4 additional minutes on the other side. Afterwards, set aside and let rest.
Step 3. In the skillet, add the mushrooms, diced onion, garlic, and mix for a while. Add the beef broth, Worcestershire sauce, and thyme to the mix.
Step 4. Add the egg noodles in and stir frequently. Next, add some of the beef broth to the sour cream to temper then add the mixture into the pasta mix.
Step 5. Slice up the strip steak and add it to the pasta. Finish up with some parsley to garnish and a little bit of pepper.
3). One-Pot Macaroni & Cheese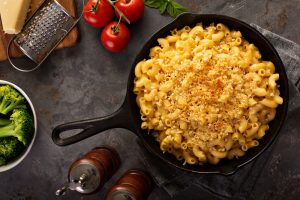 Mac & cheese is a classic family meal staple. It is both quick to make and yields a lot of servings for you and your family. And the kids love it! If you want to learn how to make one-pot macaroni & cheese, keep on reading!
Ingredients
3 cups milk

2 ½ cups water

½ teaspoon fine sea salt

450 grams macaroni pasta or shells

2 tablespoons unsalted butter

1 teaspoon Dijon mustard

1 ½ cups evaporated milk

2 cups cheddar cheese

¼ teaspoon freshly ground black pepper

Dash of paprika

Tabasco



Procedure
Step 1. In a large and heavy-bottomed pot, combine the milk, water, and salt together. Bring to a boil then add in the pasta. Stir slowly using a wooden spoon.
Step 2. Cook the pasta in the milk over medium-high heat for 9-10 minutes with a partially covered lid.
Step 3. Reduce the heat to medium-low. While stirring constantly, add the butter, dijon mustard, and evaporated milk. Gradually add the handfuls of cheese at a time until the sauce thickens and the cheese melts.
Step 4. Remove the pot from the heat then season with pepper and paprika. You can add some salt if you like. Let the pasta cool down a bit and stir once in a while until the sauce is thick and the pasta is completely coated. Serve.
4). One-Pot Sesame Chicken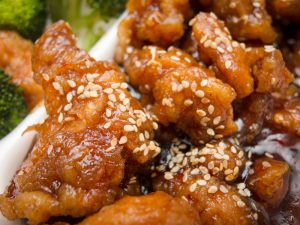 This recipe for one-pot sesame chicken is a healthy alternative to camping dining. Read on to learn how to make it:
Ingredients
2 tablespoons sesame oil

500g boneless and skinless chicken breast, cut into 1-inch cubes

1 carrot, peeled and sliced into thin 1 inch ribbons

3 tablespoons low sodium soy sauce

2 tablespoons honey

¼ teaspoon crushed red pepper

1 teaspoon fresh ginger, grated

1 clove garlic, minced

1 tablespoon cornstarch

2 tablespoons sesame seeds

¼ cup green onion, sliced
Procedure
Step 1. Heat up the sesame oil on medium heat, then add the chicken and carrot once the oil is hot. Cook until chicken is thoroughly cooked and drain off excess liquid.
Step 2. In a small bowl, combine all of the ingredients except the sesame seeds and green onion. Whisk until smooth and make sure the mixture coats the chicken.
Step 3. Bring to a simmer and cook for 1 minute or until the mixture is thick and the chicken is coated. Stir in the sesame seeds.
Step 4. Remove the heat and top with green onion. You may serve with rice or quinoa.
5). Blueberry Banana Pancakes
Of course, how can we forget about pancakes! Pancakes are so incredibly easy to make and the variations are endless. Check out this delicious blueberry banana pancakes recipe:
Ingredients
1 cup flour

⅓ cup powdered milk +1 cup water (or 1 cup milk)

2 tablespoons sugar

1 teaspoon baking powder

¼ teaspoon salt

1 egg

1 banana, sliced into ¼" pieces

½ cup blueberries

6 teaspoons ghee, or butter
To serve, you can add maple syrup, jam, butter, or creamed honey
Procedure
Step 1. Combine the flour, powdered milk, baking powder, and salt in a bowl. Add the water and egg to the dry ingredients then whisk the ingredients with a fork. Don't overmix!
Step 2. Heat a skillet over medium-low heat and add a teaspoon of ghee. Swirl the ghee around then pour ⅓ cup of the pancake batter. Add some banana slices and blueberries on top. Cook for a few minutes until some bubbles appear and the sides are set. Flip the pancake and cook the other side until golden.
Step 3. Repeat step 2 with the rest of the batter and make sure to add 1 teaspoon of ghee for each new pancake.
Step 4. Serve with maple syrup, jam, butter, or creamed honey.
Final Thoughts
Camping meals don't always have to be boring. There are many options for convenient but yummy meals that the whole family can share together.
The great thing about meals is that you can involve the kids in the preparation and the cooking because they are so simple to prepare.
Make sure that you try out these 5 amazing meals and elevate your everyday camping dining experience with the whole family!
When it comes to camping, there is no better way to experience the great outdoors than with your very own caravan.
If you are looking for the best caravans in Australia, you can't go past Retreat Caravans. Please check out our range of caravans below, all carefully designed with you in mind: